'Roots': History's Reboot Brings Story to a New Generation
"There was an America before Roots; there was an America after Roots. They were not the same country." —LeVar Burton
When producer Mark Wolper told Burton that he planned to remake ABC's 1977 groundbreaking miniseries, the actor, whose image as the chained Mandinka captive Kunta Kinte has become iconic, asked, "Why?"
After all, the original was an unqualified success. Millions of Americans had tuned in to Roots—based on the Pulitzer Prize–winning novel by Alex Haley—which ran for 12 hours on eight consecutive nights. It was an astonishing result for a show about several generations of an African-American family moving from bondage to freedom. (Haley claimed it was his own family's story, but later admitted that the book mixed fact and fiction.)
RELATED: Oprah's Greenleaf and History's Roots Among Tribeca Film Festival Premieres
With 100 million viewers, the finale still ranks as the third-highest-rated U.S. entertainment program ever measured by Nielsen, following only the series finale of M*A*S*H and Dallas's "Who Shot J.R.?" episode. The miniseries' massive success spawned the popular sequel Roots: The Next Generations in 1979 and the TV movies Roots: The Gift and Queen, not to mention a batch of babies named LeVar, Kunta and Kinte.
Most significantly, the series engendered a national conversation about the legacy of slavery. Wolper, whose father, David, was Roots' executive producer and owned the rights, thanks his teenage son for motivating him to reinvent Haley's story. "After he watched the miniseries, my son said, 'Dad, I understand it's important, but like your music, it doesn't speak to me.' That's when I decided to translate it into today's television vocabulary," says Wolper, who found a producing partner with History. (The network, along with sister channels A&E and Lifetime, will air the new Roots over four consecutive nights.)
The time also seems right with a renewed interest in America's difficult racial history because of films like 12 Years a Slave and the WGN America series Underground. "That focus doesn't happen accidentally," Wolper believes. "It's a result of the reaction we have to things that are happening in the world."
Those who have seen the 1977 miniseries will recognize much of the story in the updated version. "Using Haley's book as the spine, we don't change his characters' identities, but we do change or update the history that surrounds them," Wolper explains.
Much of Haley's depictions of 18th-century Africa and the Middle Passage (the deadly ocean voyages that transported African slaves to the Americas) have been debunked since the original aired. For example, Kinte's Gambian hometown, Juffure, was not a mud-hut village but a major trading port where slaves were sold and the Mandinka culture was rich and powerful. (Unlike the original, which filmed the Juffure scenes near Savannah, Georgia, this time around, the Gambian storyline was filmed in South Africa. The rest of the miniseries was shot in Louisiana.)
Burton's resistance quickly faded once he heard Wolper's plan for Roots 2.0. "Though I'm very protective of the original," he admits, "I was convinced that there was a need for a whole new generation of people to be familiar with this story." He not only gave his seal of approval but joined the Roots team as a co-executive producer.
Four decades ago, fearful that white viewers wouldn't tune in, ABC pumped up white roles and featured a host of popular TV stars of the time, including Edward Asner, Sandy Duncan, George Hamilton and Lorne Greene. NFL superstar O.J. Simpson was brought into play a Juffure warrior.
History's remake has a similarly recognizable cast. Matthew Goode, Jonathan Rhys Meyers and James Purefoy play slave owners, and Forest Whitaker is Fiddler, the enslaved musician who helps Kinte survive (a role that earned Louis Gossett Jr. an Emmy in the original). Anna Paquin and Mekhi Phifer play new characters, a Southern belle and her coachman, who share a big secret. Laurence Fishburne shows up in the final episode as Haley.
Mark Wolper wanted an unknown (as Burton was in 1977) for Kunta Kinte. "We were looking for an actor who had the pride and strength of the Mandinka culture," he says. "Someone less naive" than Burton's portrayal. Six months and hundreds of auditions in Africa, Europe and the U.S. led to 26-year-old Malachi Kirby, a Brit who had never done American TV.
His casting could only be called karma. "When I was growing up in South London," says Kirby, whose parents are Jamaican, "kids would call me Kunta Kinte because they thought I looked African. It was a derogatory name. It was only later, after I learned who Kunta Kinte was, that I really embraced the name."
Portraying a West African warrior posed some challenges. Kirby had to learn to speak credible Mandinka and skillfully ride a horse bareback. But the most important training, he says, was "learning about the culture, its religion and traditions. The best part of playing Kunta Kinte was that he never became a slave, even though he was enslaved, and holding on to his culture is what kept him going."
Tony winner Anika Noni Rose plays Kinte's strong-willed daughter, Kizzy, as an adult (Leslie Uggams had the role in the original), whose spirit is never broken despite being sold away from her family and continuously raped by her "master," Tom Lea (Rhys Meyers), a hardscrabble farmer. Unlike Kirby, Rose saw Roots as a child. "My parents let me know that it was an aspect of our history that we like to pretend didn't happen, but on Roots, it was in our face, ugly, nasty, but true and ours. When I read the script, I knew that Kizzy was somebody who takes her father's legacy and makes sure it lives. I felt a real attraction to her."
Kizzy gives birth to Lea's son, known as Chicken George for his skill with fighting birds. "What's amazing is that she is able to love this child and raise him," Rose says. "Rape of enslaved women may not be discussed out of shame and guilt, but it's evident in [the varying skin tones of] many black Americans."
Another young Londoner, Rege-Jean Page, was cast as the flamboyant Chicken George (played by Ben Vereen in 1977). Like his character, Page is biracial, the son of a black Zimbabwean mother and white English father. "Growing up in Zimbabwe, a freshly post-apartheid country, I became aware before I was 5 of my racial identity," he says. "I can personally relate to struggling to form your own identity when you belong to two worlds. Of course, in Chicken George's case, his father is also his owner and the rapist of his mother. That is not an easy relationship."
RELATED: The Roots Reboot Gets a Premiere Date and an Official Trailer (VIDEO)
Each actor admits to a special responsibility being part of this new version of the landmark series. "My hope," Kirby sums up, "is that people receive it with understanding, with humility and with a sense of love and forgiveness of the things that have happened in the past. But also use it to be empowered."
The Next Generation
There was only one issue that LeVar Burton had with the seminal role that made him famous four decades ago. "I begged the producers, Stan Margulies and David Wolper, to let me play Kunta Kinte through old age," he says with a laugh. "They had a vision that Kunta grew into a big strapping man, however, and they cast John Amos. I had a difficult time letting go."
This time is different. "It was easy for me to turn the role over to Malachi Kirby and say, 'This is yours now—run with it.' As soon as I saw his screen test, I opened my heart to him. I feel like I've been carrying the burden of this international symbol for freedom virtually by myself for 40 years," he says, "and I finally know that I'm not alone anymore, that he and I share this absolutely unique experience."
Though Burton, a triple threat actor-director-producer, has gone on to other iconic series, including Star Trek: The Next Generation and the long-running children's show Reading Rainbow (now available as an app), the 59-year-old has what he calls "a spiritual" connection with his first work. "My function as a producer is to stand in for Alex Haley [who passed away in 1992], for the ancestors and all of those who were in the original," he says. (We'll catch a glimpse of Burton in the remake, though the specific role is under wraps.)
What is most exciting for the former Roots star, however, is that his 21-year-old daughter, Michaela, will finally view the entire miniseries. "She's only seen the first two hours of the original," he reports. "She stopped as soon as Kunta got captured because she didn't want to see her father subjected to brutality. Now that Malachi is playing Kunta, she's eager to see it! So I'm going to sit down and watch this with my family and hope that others will too and find value in sharing this story with the next generation."
Roots, Airs on four consecutive nights beginning Monday, May 30, 9/8c, History.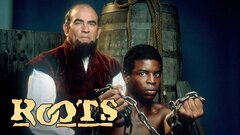 Roots
where to stream
Powered by