'The Real O'Neals' Gets a Second Season From ABC
As the news of cancellations and pickups become fast and furious, we hear that ABC is renewing the comedy The Real O'Neals for a second season.
Debuting this past February, it involved the unraveling of a seemingly perfect Chicago family after the parents (Martha Plimpton, Jay R. Ferguson) announce they're getting a divorce, and their son Kenny (Noah Galvin) revealing that he's gay. The season has explored what Kenny's announcement has done to this once-idyllic family, and how truly crazy they all are.
RELATED: Nashville Canceled by ABC
The show hasn't exactly been a ratings barn-burner for ABC, garnering about 3.5 million viewers per episode, dropping off about 50% from its premiere audience, but it pairs nicely with Fresh Off The Boat on Tuesdays, which seems to be ABC's motivation for bringing it back.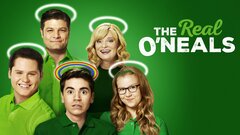 Powered by