'Orange is the New Black': Things Are Getting Serious in Season 4 Trailer
"I've been at Litchfield for awhile now," says Piper Chapman (Taylor Schilling) in the Season 4 trailer for Orange is the New Black, "And I have started to feel unsafe lately."
RELATED: Netflix Renews Orange Is the New Black for Three More Seasons
That's pretty much the theme of Season 4 of the Netflix dramedy; the operation of the federal prison has been taken over by a private company, and it's trying to maximize profits by stuffing the compound full of new inmates. There is also a new balance of power, as Cindy (Adrienne C. Moore), Taystee (Danielle Brooks), Crazy Eyes (Uzo Aduba) and company are in positions of authority for the first time.
RELATED: Orange Is the New Black: Fabulous Season 4 Photos
But the new residents of Litchfield aren't the down-on-their-luck-but-generally-decent-people that we've seen during the first three seasons, and the conflict between the new and old inmates will come to a head. Watch the trailer below to see what we mean.
Orange is the New Black, Season 4, Debuts June 17, Netflix.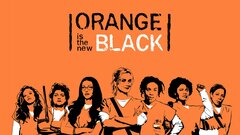 Powered by