'Bones' Michaela Conlin: Angela and Hodgins' Tension Reaches a 'Fever Pitch'
Bones' Angela (Michaela Conlin) and Hodgins (TJ Thyne) are going through a rough patch—and the worst is still ahead.
Though the long-time couple have seen their share of bumps of the road—most notably when they broke up for two years, before reuniting (and quickly marrying) in Season 5—but Hodgins' paralysis has led to tension between the duo as he gets increasingly frustrated with his new limitations.
RELATED: What You Need to Know About the Second Half of Bones Season 11
In this week's episode, the tension reaches a boiling point. "It's definitely one of the most intense episodes we shot," Conlin says. "It's been building over these episodes, but I would say it reaches a bit of a fever pitch with the two of them."
As Hodgins and Angela are forced to reassess their marriage and come to terms with what they want, the on-screen drama has allowed their portrayers to play new facets to their characters' relationship. "We really, really enjoy it," Conlin notes. "For many years, there was a lot of conflict and tension with them in the beginning of their relationship: with Angela being married, and then being apart and back together again. Since then, they've been fairly happy. TJ, we've worked together for so long, and we trust each other so much, [so] it's been great. We've been having a great time talking about the scenes beforehand, and talking to the writers about them."
RELATED: Is Brennan's Relationship With the FBI in Jeopardy?
At least Angela isn't alone as she struggles to cope with Hodgins' anger: in light of Hodgins' injury, Angela has had more non-work time with Brennan (Emily Deschanel) and Cam (Tamara Taylor). "Those scenes are always my favorite," Conlin gushes. "I feel like the case is the byproduct of what we really want to talk about, which is our personal lives. I think that stuff is really what drives the show—the cases are obviously really well developed and they stand on their own, but I think at this point in the series, and the fans who have been with us for a long time, that payoff of people who are invested in the show and these people."
"Just in terms of Twitter and what people talk about, our fans are wonderful, and I really feel like they want to see Cam and Angela talk about these guys, or Angela and Brennan talk about how they're being treated as women," she continues. "I think that's what people want to see. It's a real joy for us to work on that."
Bones, Thursdays, 8/7c, Fox.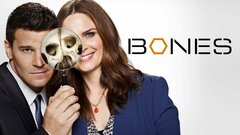 Bones
where to stream
Powered by