'Bones': What You Need to Know About the Second Half of Season 11
Even though Bones has been off the air since December, the cast and writers have been hard at work making the final 12 installments of Season 11.
"We've really opened up everyone's stories; everyone has real issues coming up," says executive producer Jonathan Collier. "Cam-Arastoo's [relationship turmoil], that's playing out during this. Hodgins and Angela have real issues coming their way because of him being crippled. And Brennan and Booth have things coming their way. And we have really fun things happening with Aubrey. We're trying to keep the emotional storylines going."
We spoke with Collier and fellow executive producer Michael Peterson to see what else was in store when Bones returns on April 14.
The fallout from Hodgins' (TJ Thyne) paralysis will be addressed. Peterson previously shared that when Bones returns, the show will jump forward "about two months" after Hodgins' original injury and diagnosis. Case-wise, "the first episode back is defense attorneys," Peterson says. "It's public defenders. But the real heart of the case is Hodgins and what's going on with him." Episode 12 is also a key one for Hodgins. "It's a journey," Peterson acknowledges. "What TJ has done with the character is just amazing…he does not leave his wheelchair when he is on set, ever."
RELATED: TJ Thyne Speaks About the Life-Changing Future for Hodgins
A new serial killer will be introduced. Bones' newest serial killer was (partially) inspired by an iconic X-Files episode of television. And digging into the murderer's past killing spree will prompt Booth (David Boreanaz) and Brennan (Emily Deschanel) to reassess the time they spent away from work between Season 10 and 11. "This is a serial who has killed before, and has killed in a time when they weren't there," Peterson says. "Their [thoughts are], 'What if? What if we had stayed? Would this have been different?' This is the guilt that's going on in the back of their minds. It's not something Brennan would have felt in earlier seasons, but she's more emotionally connected, so she feels it this time."
The world of halfway houses will be front and center. Collier points to Bones writer Emily Silver's hour about halfway houses as a particularly hard-hitting episode. "I love doing a few of those a year," he says. "[The episode is] set in the world of [for profit] halfway houses. Not psychiatric ones, but ones that are from people who have just been released from jail." The hour will also feature drama for characters we know. "Aubrey and Jessica kind of continue their thing," Peterson says. "At the end of that one, there's a very dramatic twist, so that's something to look forward to."
Team Bones will have a documentary crew following a murder investigation. As previously revealed in TV Guide Magazine, Episode 18 will feature an episode of Bones that will be a different kind of format for the show."We were already breaking an episode which is sort of a documentary episode of Bones [when the Making a Murderer craze hit]," Peterson says. "We're going to break the wall and talk to the camera. That was something we had planned to do already, and this thing blows up."
RELATED: How Making of a Murderer Is Redefining TV's Crime Obsession
"The model for it would be [A&E's] The First 48," Collier continues. "They just follow a police department in the first 48 hours after a crime. And so a documentary crew is with our people. It's somewhere between that and Parks and Recreation." The episode will showcase more of the characters' work routines than normal, which is why they decided to partake in the documentary. "Booth is very much [game] to do it, because we want to know the truth behind these interrogations," Peterson says. "He's like, there are so many things out there where it's not told correctly; we're going to set the record straight. And Brennan sees it the same way: there's so much science out there that's misleading."
Kathy and Kerry Reichs' hour goes where Bones has never gone before. Kathy Reichs, who wrote the books Bones is very loosely based on, will return to pen another episode with her daughter, Kerry, and "it is a really, really fun one," Collier says. "It's a kind we've never done before—it involves an anthropological expedition. So it's right in her wheelhouse."
"It's a bit of a cold case, in a way," Peterson adds. "Someone died 10 years ago while on an expedition, and suddenly his body is found. There have been stories of what happened, and Brennan is looking at the body and looking to see what part of the stories are true and what aren't." By laying out who was where and when, it will limit the pool of suspects for viewers who want to sleuth along at home. "It's going to be more contained, because we know the five people who are on the expedition," Peterson says. "We're hoping to get the magic of Agatha Christie [mysteries], where we meet interesting characters and we have to figure out the lies."
And a few other quick bites: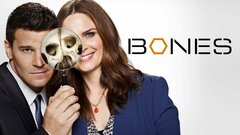 Bones
where to stream
Powered by