'Vikings' Creator Michael Hirst Explores the Midseason Finale's Inevitable Battle and New Beginnings
Spoiler warning! This interview contains heavy spoilers for the Vikings midseason finale.
Battered and bloodied, Ragnar (Travis Fimmel) and Rollo (Clive Standen) parted ways on the waters of the Seine in the wake of their climactic and long-awaited duel. After the naval battle between Vikings and Franks, Rollo reaped accolades and recognition as the champion of Paris, while Ragnar, haunted by failure and crippled by withdrawal from his special Chinese "medicine," abandoned his family and entered into self-imposed exile.
But that was only the first half of the Vikings midseason finale, and for as many conclusions as the opening provided, the latter portion, which began with a multi-year jump forward in time, teased at least as many new beginnings. Ragnar's sons Ubbe (Jordan Patrick Smith), Sigurd (David Lindström), Hvitserk (Marco Ilsø) and Ivar (Alex Høgh) are now grown men with some severe abandonment issues, Bjorn (Alexander Ludwig) and Floki (Gustaf Skarsgård) have a new Mediterranean goal, and nearly as soon as he had left, for the audience at least, Ragnar has returned with a royal challenge to his children. We spoke to Vikings' writer and creator Michael Hirst for a full breakdown of the midseason finale and a look forward at what's to come in the saga of Ragnar and his family when it returns later this year.
Navigate: Ragnar and Rollo's Duel | Time Jump and New Actors | Ragnar's Sons | Harald, Halfdan and Ecbert | The Future
---
Concluding Ragnar and Rollo's Battle
More than a midseason finale, this felt like a season finale or even a season premiere. With the new 20-epsiode format this season, did you approach each half of the season as a standalone arc?
I probably did, because we didn't get the order for 20 episodes immediately, although there was some discussion that we might do more than 10, but I was still aware that I had to deliver something significant by the end of 10. Frankly, for me, that was a season. But I wasn't worried particularly about moving forward, because, since it's based on real events, there's always more material.
What was your approach for the first half of the season?
I knew that what at least the first half of the season was involved with was the final, inexorable battle between Ragnar and Rollo, which had that kind of inevitability of a Greek tragedy about it, and I wanted to build up to that. I had this kind of interesting bifocal emphasis on the two brothers. Rollo was unsympathetic, he wasn't charismatic like his brother, he'd f***ed up a little bit. He'd rebelled and he'd become a drunk and all sorts of terrible things. I remember Clive mentioning to me about this, saying like, "Does my character ever get any luck? Does he get better?" I said, "Look, if you knew what was going to happen to you, you'd dance naked on the sand." So the funny thing is that even though Rollo is attacking our hero, the great Ragnar Lothbrok, I think that a lot of the audience, me included, are sympathetic to him, and when he's crowded as Caesar, it's like somehow, that's a good thing. He's earned that.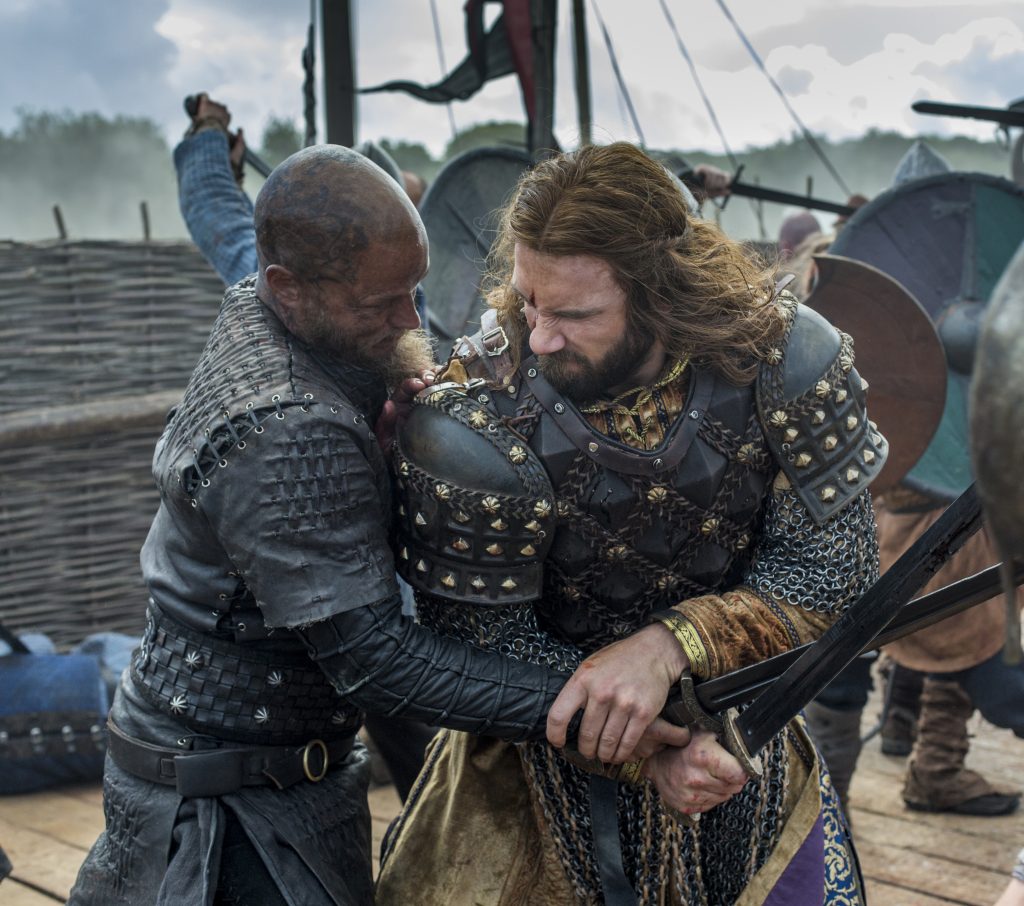 And similarly, I decided to take Ragnar, the hero, on the opposite trajectory. He would fall, he would fail, but I thought I'd be able to carry the audience with me as well, because everyone knows that he didn't want to be powerful, that he didn't want to be a king, that he's far too sensitive, and you know, he wants to be a farmer and everything. So I thought, "I can take these two characters into battle in a very complicated, different way, with different expectations, and I think I can take the audience with me." I was aware that that challenged some of the conventions and clichés about how you're supposed to deal with your heroic characters, but I think it works. I didn't want to kill either of them, because their stories continue, but I did know that that fight was going to be the big payoff to that part of the season.

Will we be seeing any more of Paris or Rollo in the second half of the season, or is that arc finished for now?
We do see Rollo again, absolutely. He's too good to lose. Of course, it is true that the defeat in Paris did mark an ending. There's no doubt that that's the end of one part of the story, and it's the beginning of a new part of the story. But it's all part of the same saga. It's part of the saga of Ragnar and his sons, which is where I started from. I always knew that this wasn't just about Ragnar, it was about Ragnar and his sons.
---
Time Jump and Fresh Blood
Ragnar's sons Ubbe, Sigurd, Hvitserk and Ivar are now grown. Is it safe to assume we'll be seeing more of their personalities?
Oh, sure. Now they're up and running, really. I was always very excited to cast them. In fact, for the cut forward in time, I didn't care if it was six years or seven years or eight years or whatever, it was just enough time for them to grow up. So the casting was very important. As I said, this wasn't just the story of Ragnar, it was his sons' too, so we needed to cast well. Even though we had Floki and Lagertha and Bjorn and Rollo moving forward, we got this new energy. We had to have these new Viking presences, and so, it was an interesting casting process. I think at least two of these new guys are going to be huge stars, and they have brought a great new energy into the show.
I don't think anyone could dispute that the Ragnar that you see coming back at the end of [the midseason finale] is not the same Ragnar that we first started with in Season 1. That amazed me as much as anyone else, the journey we've been on and how Travis has changed. But also, it just proves how much we needed this new injection of youth and energy.
Why did you feel that the midseason finale was the right time for this time jump, instead of getting that fresh start in the midseason premiere?
I just wanted to be organic and seamless, and I wanted the audience to register that there were new characters at the end of this season before the new season, so they'd get a glimpse of what was going to come. We talked about that, of course there's loads of conversation that goes on about when would be the right time, but I felt very confident that we should do this. That we should be brave. We've already seen those boys growing up; it's not like I'm introducing totally new characters. I think it's a triumph. It's totally organic and it works. It does make the audience work a little harder for a while, but I don't think it's that difficult to pick up the story.
Can you tell me anything about where Ragnar was for that period of time when he was missing?
No, not much. I'm not that interested myself. I think the main thing was the impact on the sons. Their father left them at a very vulnerable point in their childhood. He was the most famous person in the world, in their world, and he abandoned them, and they have to deal with that. They talk about that, but it continues to be an issue, and for some of them, they never quite get over what he did. Others can accept it.
The big thing in his life, really, was the settlement in Wessex that was destroyed. He has issues, but he's still, he's just a person who's alive, and dealing with being alive. So what he did, whether he was on his own in like a Buddhist thing, it doesn't really matter, because it doesn't change very much. But I would say, of course it has a much bigger emotional impact on the kids. And it's left a vacuum of power, and that's also dramatically interesting. Aslaug has kind of filled in there, but there's obviously a lot that's going to go on with who's fit to claim power.

Why did Ragnar choose that particular moment to come back? Is there something specific that brought him home?
Ragnar has motives, he wants to know what happened to his sons. He's intrigued. I think that it was just sort of this coincidence about the guy who comes to the settlement to say that Ragnar knew all along that [the Wessex settlement] was destroyed and he didn't tell anyone in Kattegat. Wherever he was, in whatever realm he was, this thing keeps festering, and he kind of knows that his sons probably will have learned what has happened, so he has to deal with that. It was the time he chose to come down from the mountain just to confront all these issues. And it's typical of Ragnar that he could have ignored it, he could have just stayed away, but he's a kind of honest guy. He's a great guy. He wants to come down and deal with it, and he's decided to do that at probably his worst time. It's not easy for him. It's, in fact, quite the reverse.
---
Renewed Focus on Ragnar's Sons
With the new infusion of young Vikings in Ragnar's sons, will the focus of the show shift away from Ragnar, putting him in more of a supporting role?
I think that we are still fascinated by what Ragnar wants to do and what he does. And why shouldn't we be? He's taken us through four seasons, 50 hours of TV or whatever it is. We want to know what Ragnar does, and what Ragnar does is astonishing and amazing and emotional and fantastic. I'm very proud of how that story has developed. But simultaneously, we're getting to know the sons a little better. We're being intrigued by the sons, and we're being prepared for the fact that the sons are going to become the inheritors of Ragnar's kingdom and Ragnar's character. All of the sons have some parts of Ragnar's character inside them.
So we won't have that central focus perhaps, but at the same time, I'd say that we've always had a slightly collegiate cast. Lagertha is as popular as Ragnar amongst the fans, and Lagertha's not going anywhere. She going to be around. And Floki is hugely popular. So it's never quite been that. You know, it's not The Sopranos, it's not just led by Travis. Travis and Ragnar obviously have been hugely important, but it's never been driven by just one character.
The focus has shifted toward Bjorn this season. We found out in the finale that his map is for the Mediterranean. Do we know where he's going, exactly?
Yeah, he tries to set sail for the Mediterranean. He sets off.
So he sets off, but you can't say whether or not he actually gets there?
That's right.
Did Bjorn have any sort of reaction to the news that his daughter had died under Aslaug's care when he was away in Frankia? The time jump skipped over any sort of response he may have had.
I think he should have had, as a father myself, I think he should have had, and he didn't. And I think that says something about Bjorn. He's like Ragnar in so many ways, but in other ways, he's not like Ragnar. That he could cut someone out of his life like that, I think Bjorn is developing his own complexity.

Is it just a coincidence that we saw Aethelwulf (Moe Dunford) and Alfred (Conor O'Hanlon) in Rome and now Bjorn and Floki may be headed that way?
Oh yeah, that's a different storyline. If you think about this, it's just astonishing that in the Dark Ages, people could travel from England to Rome. It must have been quite dangerous. Anyway, actually that's true. I like to think that everything in Vikings begins in research and in truth, and it's true as far as we know that Alfred went to Rome as a young boy.
---
Power Hungry Players Harald, Halfdan and King Ecbert
Have Harald (Peter Franzén) and Halfdan (Jasper Pääkkönen) used Ragnar's disappearance as an opportunity to take more power?
They have! Their empire has grown considerably. They come back into the action as far more powerful people.
So they'll be a driving force in the second half of the season?
Oh yeah. They're considerably important.

Now that Ecbert (Linus Roache) is the king of Wessex and Mercia, will there be a lull in the Britain storyline for a while?
No, not at all. Linus is an extraordinary actor, and I couldn't do it without bringing him back. His character is amazing and he becomes essential again.
---
Looking Forward
What are your ambitions for the future of Vikings, this season and beyond?
I think the first half of this season has been the best thing we've done so far, and I think that's been widely recognized. It has been very engaging and very confident, but for me, the second half of the season is a deeper journey into things that I'm really, really interested in; some deep and profound, interesting places that we've been moving towards over the years, where I think Vikings can go. I'm now working on Season 5, and we'll be taking them to new places, and the boys are flourishing and developing, but we still have a lot of our original characters still in play. For me, the main point is that it's still fun. It's amazing fun. There's no absence of historical material, and I have no problem coming up with storylines, all of them based on what actually happened, and I'm just taking them to new, more extraordinary places. I love my Vikings more than ever!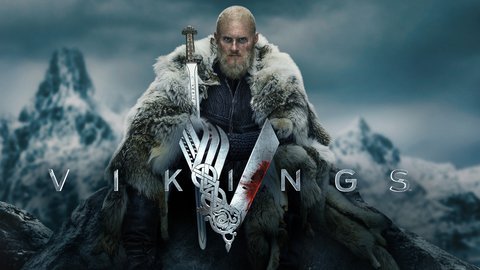 Vikings
where to stream
Powered by