'Banshee': First Look Video at Eliza Dushku's New FBI Profiler
In her very first appearance on Friday, April 22, on Cinemax's beloved cult actioner Banshee, Eliza Dushku swaggers into the town jail and goes toe-to-toe with Banshee mayor and very scary person Kai Proctor (Ulrich Thomsen). Then she goes after the former sheriff, known as Lucas Hood (Antony Starr), who's in jail as a murder suspect. She's a tough-as-nails FBI profiler named Veronica Dawson and her entrance onto the series is something to marvel at. Check it out in TVInsider's first-look video:
We talked to Dushku about her stint in Pennsylvania's baddest town.
Why did you join Banshee for an arc in its last season?
I was a lucky woman. I was asked to play FBI agent Veronica Dawson. She has demons, which is what makes her such an interesting character. I'll be in the rest of the season after this episode.
RELATED: Banshee Creator Teases the Final Season: 'We're not above killing off major characters.'
How familiar were you with the show?
Enough that I had a vivid reaction to the faces, the characters and the tone of the show. I was struck by some scenes between Antony and Ivana [who plays Hood's former longtime lover Carrie Hopewell]. They were so damn seamy. Carrie is such a strong female character. It's an overused term, but she really is. I admired the show, the writers and the actors, so I did a binge watch and joined the show.
What's Veronica doing in Banshee? And what kind of character is she?
She's been called in to help find a serial killer. She's a rogue agent who doesn't necessarily follow protocol. If she wants to go investigate a sex den outside of town she'll show up there and get herself into some hairy situations where she's going to need her physicality to get herself out of trouble.
Speaking of physicality, you've done a number of action roles—Buffy, Angel, Dollhouse—often playing a kick-ass girl. Nonetheless did you have to really work out to get in shape for the heavy duty fights this show is known for?
I did. I also had just spent my first year as a college student back in Boston, so I was not eating well. The trainers had been building me an ass. Even though I've always been trim, I had to do a grueling number of squats and butt exercises. There's a scene—no surprise—where my character is not fully clothed. We get to highlight that part of my anatomy! [Laughs]
Banshee has its own fitness team, doesn't it?
Yes. I'm surprised that more shows don't do that. It's so good emotionally to have the luxury of an on-set trainer. Then you never get a script where you go, "Oh, no! I'd better get to the gym."
RELATED: Antony Starr Offers a Peak at Banshee's Final Violent and Redemptive Season
You play a profiler which means you try to get into the heads of criminals. You have some challenging characters in this criminal-filled town, including Lucas Hood. Does she try to get into his head? Does she succeed?
Oh, absolutely. He's in the jail when she enters so he's the first person on her agenda. She tries to figure out what makes this man tick. I love how they set up our first scenes together. She's right in his face. He asks, 'Are you always this direct?" She's fearless, bold and very calculated. And she gets into Hood's head enough to find that they have a lot of similarities.
What kind of relationship do they have?
They start to work together and they get closer. They have the same goal: catch the serial killer.
How close? Any hanky-panky between them?
He's really wounded and processing a lot from the other women he's lost in this story. So when Veronica comes in, he's not in a place where his character has been in other seasons, but they do come together in an unusual way and it's really nice. The creators of the show might say, "Well, of course, we'll put the two of you together!" To me, it felt like it was organic and really character-based and really smart and really introspective for each of them.
I hope Veronica doesn't get close to Lucas, because as you say, bad things happen to all the women he gets involved with.
[Laughs] She's smart. But she doesn't always heed anyone else's advice.
Did you work with Ivana? What does Carrie feel about Veronica?
One of the few things that I was super-bummed about was that Ivana and I had no scenes together. We did get to know each other, though.
Do you work mostly with the guys on the show then?
It was a lot of me and the guys. Funny story: The very first day when Veronica shows up at the police station, she verbally chops the balls off every single man she meets. She just takes them out. So I'm just meeting the actors and one by one, each guy would day, "I don't think that she'd say that to my character!" As the new woman, I just said, "You know, maybe you're right." So we had all these different versions of the scene, where I didn't chop off anything. Then after the rehearsal, I ran into the executive producer, Jonathan Tropper, and he was like, "No, we're going to go with the scene as written." [Laughs] Thankfully, by the end of the day, the guys knew that they didn't have to feel threatened.
Banshee, Fridays, 10/9c, Cinemax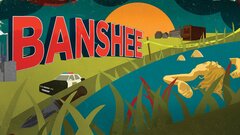 Banshee
where to stream
Powered by