In Crackle's 'StartUp', Martin Freeman and Adam Brody Play High-Tech Cat-and-Mouse (VIDEO)
If you just know the streaming service Crackle as the place where you can watch Jerry Seinfeld drive comedians in cars to get coffee, then you might be surprised to realize that they've been in the original scripted game for a few years. This fall, they're stepping up their game with new shows that include some high-profile names.
RELATED: First Look: Dennis Quaid and Kate Bosworth in Crackle's The Art of More (PHOTO/ VIDEO)
One of them is StartUp, which will premiere this fall. In the drama Martin Freeman plays Phil Rask FBI agent who is looking into where Miami-based financier Nick Talman (Brody) has stashed the money he was left when his criminal father disappeared. Talman invests the money in a digital currency startup started by tech genius Izzy Morales (Otmara Marrero).
RELATED: Sneak Peek at Crackl's Original Film The Throwaways
Ronald Ducey (Edi Gathegi), a Haitian gang leader, goes looking for the money Talman's dad owes him, and the three of them form a reluctant partnership to use the digital currency app to launder the senior Talman's money. Of course, Rask gets wind of it, and the chase begins.
In the trailer below, we see all of the potential fun this series can be: the tropical setting (the show takes place in Miami but was shot in San Juan), Freeman and Brody playing high-tech cat-and-mouse, and Gathegi and Marrero's characters' interests clashing even while they have to work together. Take a look:
StartUp, Fall 2016, Crackle.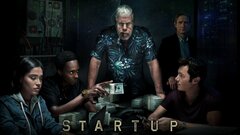 StartUp
where to stream
Powered by