Lauralee Bell Finally Lands a Daytime Emmy Nomination After 33 Years on 'The Young and the Restless'
It's about damn time. Lauralee Bell began her role as Christine "Cricket" Blair on CBS's The Young and the Restless back in 1983 when she was still a high school student living in Chicago. At first, it was just a summer vacation gig—what kid wouldn't want to go to Hollywood and be on TV?—but it soon turned full time and for years Bell enjoyed one top storyline after another. So why did it take her 33 years to land an Emmy nomination for her performance? Currently up for Outstanding Supporting Actress, Bell is the daughter of Y&R creators Bill Bell (who died in 2005) and Lee Phillip Bell, which sort of makes her the Tori Spelling of daytime—minus all the controversy and the mishigas, that is. Has the fact that she got her job via nepotism been held against her all these years? Bell had some interesting thoughts on the matter.
Christine's miscarriage was powerful stuff. Did you have any sense it would lead to a nomination?
Not at all. All I knew, when Doug Davidson [Paul] and I shot those scenes, was that I didn't have to fake a thing. Sometimes when actors have to get to an emotional place, they manipulate their brains to get the tears going—thinking of something that's really personal and painful that may not have anything to do with what's happening in the script. But Doug and I were so connected and so in the moment that trying for tears wasn't necessary. It all felt so real to me. Nothing forced, nothing false. It wasn't until I made the Emmy pre-noms that I started thinking, "Well, if it's ever going to happen for me, this is what will do it." It was such a hard, emotional story. Christine had gone years not wanting a child and then came to a place where she really, really wanted one, so the loss was even greater. Then, to have her husband's dear friend, Nikki, cause the miscarriage, made it even worse, and then you add Neil and all his issues and it became very complicated and really sad.
Were you surprised the pregnancy ended?
Doug and I kind of suspected a baby wasn't in the cards, but we had no idea how it would end. And the show sure didn't need another child on the set. It was fun to play the excitement of the pregnancy but, on a selfish level, I wasn't looking forward to the reality of it. On a soap, once you're past the "Oh, we're so happy! We're so lucky!" stage, there's not much you can do. You don't want to become the boring parent. Right now I kind of feel my character is the boring D.A. All business, very uptight. I can see why the fans on social media are, like, "Cricket never smiles anymore." [Laughs] And I'm the first to agree!
RELATED: Why the Daytime Emmys Won't Be Televised This Year
So what do you think was behind the three-decade Emmy snub? You've always been a consummate professional, never pulling rank, never a diva. Was it because you're a Bell?
I think the same thing happened to Melody Thomas Scott [Nikki] because she was married to the executive producer. She's fantastic yet she's ignored when it's time for the Emmys. I always figured my personal connections hindered the possibility of a nomination and I was okay with that. In fact, when Emmy time came around each year, I didn't even think about it. It was just not part of my world. I was content to go to the awards and be everyone else's cheerleader.
You couldn't even get nominated when you qualified for the younger category.
I know! [Laughs] And back then there was only like four of us in that age group, and it still didn't happen for me.
How did you get the word that the streak was over? Please don't be one of those stars who pretends they didn't know it was nomination day.
Oh, I knew it was the day all right, and that they were going to be announced on The Talk but I've never done that show and had no idea what time it aired. For years, the nominations happened early New York time, so when no phone calls woke me up I just assumed I wasn't on the list. Later in the morning, I heard from Martha Byrne who was screaming in a text going, "I KNEW IT! I KNEW IT! OH, MY GOD!" That's how I found out I was nominated. I am such a fan of all the girls in the category. I grew up with [Days of Our Lives'] Melissa Reeves. I love [Y&R's] Jessica Collins and had great fun working with her. [The Bold and the Beautiful's] Linsey Godfrey is really amazing and [Days'] Peggy McCay is, well, a legend! To be nominated in that group is the award. I am very happy with just the nomination.
RELATED: Melissa Reeves Reacts to Her Long-Overdue Nomination
What did your mom have to say about it?
I tried calling her right away and she wasn't there. By the time I found her, I said, "Mom, did you hear?" She said, "Did you get nominated?" I said "Yes!" And before I could say another word she was, like, "Do you know if your brother, Brad, got nominated for The Bold and the Beautiful? Because I don't think he did." Well, it turned out he got a lot of nominations, but that is so typical of a mom. She wasn't like, "Yay, honey! I'm so happy for you!" [Laughs] She wanted to make sure that all her kids got something.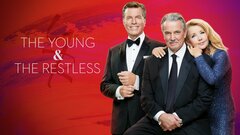 Powered by