'Vikings': Floki's Vision of a Broken Queen Aslaug (VIDEO)
It remains unclear whether Floki (Gustaf Skarsgård) and lusty wanderer Harbard (Kevin Durand) are the earthbound embodiments of pagan gods or simply ordinary men with uncanny spiritual abilities, but they are certainly among Vikings' most mystically attuned characters. This week's episode delves deeper into the bond of sight shared by the two potential deities in regard to Queen Aslaug (Alyssa Sutherland).
RELATED: Vikings: Does Floki Deserve Your Sympathy? Gustaf Skarsgård on His Character's 'Tough Year'
In a vision that's decidedly less sexy than his previous embodiment of Harbard, Floki, who has had a trying season himself, sees a distraught Aslaug wandering the streets of Kattegat, screaming for Harbard as a hard rain soaks her through. Floki's vision is so intense that even Ragnar and Bjorn take notice as he returns to reality.
Watch Floki's vision in our exclusive clip:
Vikings, Thursdays, 10/9c, History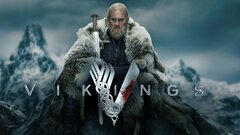 Vikings
where to stream
Powered by