'Fear the Walking Dead' Season Premiere: Showrunner Dave Erickson Teases Dangers at Sea
Spoiler alert! This story reveals details from the season premiere of Fear the Walking Dead.
Anchors aweigh!
AMC's Fear the Walking Dead hit the high seas in Sunday's Season 2 premiere as Madison (Kim Dickens), Travis (Cliff Curtis) and their family set sail away from a burning Los Angeles on board the Abigail, a luxury yacht owned by the mysterious Victor Strand (Colman Domingo). While Strand wants to head down the coast towards the military bases in San Diego, Madison and ally Daniel Salazar (Ruben Blades) are skeptical about his true intentions.
Meanwhile, tensions mounted between Travis and his son, Chris (Lorenzo James Henrie), following the death of Liza (Elizabeth Rodriguez) at the end of Season 1, leading to an outburst by Chris at his mother's memorial service on board the ship. But Chris wasn't the only member of the family causing trouble, with Madison's daughter Alicia (Alycia Debnam-Carey) using a radio to make contact with a seemingly friendly voice named Jack and compromising their position. When the group came upon the wreckage of another yacht, the Abigail became the next target for a violent band of nautical marauders.
RELATED: Kim Dickens Previews Season 2's Harrowing New Dynamic
We spoke to showrunner Dave Erickson about leaving Los Angeles, Strand's master plan and the dangers the group will face at sea during Season 2.
Why did you decide to start the season by showing the violent destruction of Los Angeles?
There's a number of reasons for it, and we talked a lot in the writers room when we came back about how big of a time jump we wanted. There was a version where we actually started and we were already on the boat and we were a distance away from shore. But we knew we wanted to play the idea of mourning and grief to a certain degree just out of respect, acknowledging the loss of Liza, the loss of Griselda (Patricia Reyes Spindola) and Matt (Maestro Harrell) and everyone else. And in terms of a jumping off point, there's something very specific and dramatic about our family watching Los Angeles burn. They traveled through it at the end of last season and they saw a more desolate and a more empty city. Los Angeles had been given over to the dead. But now they've seen really the complete destruction of the Southland. They go to sea knowing there is no home to return to. That was the key, because not only are they mourning the people that they've lost, they're also mourning the loss of their home and everything they know. And when you look at the trajectory of the first several episodes, being on the water and trying to find some kind of safe harbor knowing that the home is not an option anymore and knowing that there's no return, that's helpful when it comes to the sense of isolation and anxiety they have on the boat. In terms of the tone we wanted to get, it was important that we actually saw the wasteland behind them.
Whose idea was the zombie death by propeller?
That was an Adam Davidson pitch, who directed the first two and directed half of the first season. It was really just a matter of what was there in that moment. That was an opportunity where Nick's (Frank Dillane) family was in danger, everybody was caught up in the panic of trying to get off shore and he happened to have his hands on the prop. Once he lifted it up, it was the only weapon he had handy. But by the end of the episode, when Nick has not one, but two close encounters with the dead at sea, especially in that moment when he's underneath the capsized boat and he has that interaction with the woman who has turned, he starts to see something different. He's going to go down a much different trajectory where his fascination and fixation on the apocalypse is a lot less to do with killing the dead and way more to do with understanding them.
Strand wants to head to San Diego, but Madison and Daniel are concerned that he's a little overly prepared for this apocalypse. How much does Strand really know?
Strand clearly had no intention of staying on land. The second they got to his house, he was already packing and he revealed the boat. This was all before the bombs started to fall, so he was going to leave regardless if Operation Cobalt was going to be carried out or not. That is cause for concern. He references San Diego and suggests that's a good place to go, but the great thing about Strand and the great thing about the way Colman Domingo plays him is that he really is the mystery at the core of the first half of the season. We don't know him very well. We don't know what his intentions are. He has some kind of plan, and that story will evolve over the next couple of episodes. We'll get a better sense of what his intentions are, but he's a challenge for the rest of his crew because everything Daniel says in the premiere, all the questions that he raises, are all valid. What's interesting about Strand is we will slowly come to see a more emotional side to the man. We will learn a lot more about him, which will deepen that character and make him more interesting.
Are you going for a biblical Noah and the ark parallel with Strand?
No. The thing that's great about Victor is that he can define the currency in the moment. So he knows that we have turned a corner. He knows that he cannot go to the ATM and he cannot get money. He knows that money doesn't matter. He knows that the trappings of wealth don't matter. And he meets this junkie in withdrawal and he sees something in him. What he realizes is that in this world, the value of somebody like Nick is he's already lived on the margins, he's lived on the fringe and he's been living his own apocalypse. So someone like that, because he knows how to survive already, is going to function very well in this new world. That's what draws him to Nick initially. What he doesn't know is that Nick has a bunch more people and a larger family. One of the questions, and Salazar will raise this question very soon, is do you intend to keep us here? Do you intend to keep everyone one the boat? Are there specific people here who you are interested in and others not? That's partly what Strand is doing and really the question for the characters in the audience is he ultimately malevolent or is there some benevolence from him?
Emotions ran high between Travis and Chris over Liza's death. How long will it take them to reconcile?
This is something that will carry on throughout the rest of the season. One of the things I like most about the show is that if you take some of these arguments and some of these conflicts, ultimately we are still trying to tell the story of the apocalypse through the filter of a family drama, so the great thing about the argument that Chris and Travis had is they very easy could have had a version of that before the apocalypse. If there were no zombies, that scene still could have played, and now it's just exacerbated by the fact that there are zombies and people are turning. Specifically with Liza, Travis was in a very difficult position because he made a promise to protect Chris. He shot Liza because he promised to protect Chris, and he's now in a situation where Chris does not want his protection. Chris wants absolutely nothing to do with him. So the two of them finding a way to come together is going to hard, and there's going to be a lot of sacrifice and suffering that goes with it. It may not end well.
We can see little alliances starting to form on the boat in the quieter moments between characters. Who should we be keeping a close eye on?
Madison, if nothing else, is also a survivor. Madison is somebody who is going to swim in these waters a lot more easily than Travis will, and Travis is going to have a lot more challenges in this world. So we've seen Madison connect with Salazar last season and again in the premiere. But the real interesting alliance is going to be between Madison and Strand because it is his boat, as he makes very clear in the premiere. And with that comes a certain degree of power, but he also has a crew, all of whom he doesn't really know. He has to find a way to control them and follow his orders and listen to him on a day to day basis. His power is destination right now. His power is making it to San Diego, if that's a good place to go. If that destination were to be compromised, it compromises him. We will find out that ultimately Strand does have an ace up his sleeve and he does have a plan. That's going to affect everybody on the ship, and it's also going to beg certain compromises amongst the characters. So Strand and Madison will be interesting to watch. What's really exciting about this season is we have an opportunity to see a coming of age story for our three younger characters in a world where no one really comes of age anymore. And watching how Chris adjusts to the apocalypse and Nick adjusts and then Alicia, they are all going to be on very specific tracks and dealing with it in different ways. The great thing about 15 episodes instead of six is we do get an opportunity to showcase our characters a bit more. We do have an opportunity to dig deeper into some backstories, and as they discover more about the apocalypse, we get to discover more about them.
Well, Alicia's already putting everyone in danger with her radio calls to this mystery man named Jack. What can we expect and this guy and the other people they will encounter at sea?
They are not dissimilar from our characters. There are some people who were prepared for the apocalypse. There are some people for whom this is not necessarily a bad thing. Whether that means they were predisposed to violence, there are those who are going to embrace things and there are those who are going to take what they want. Some of the people we'll come across are more libertarian people and are folks who think they need to fend for themselves, do for themselves and take what is necessary in order to survive and protect. We will confront some people on the water who, as Strand says, covet the Abigail or see it as a fortress on the sea and want to take it from us. That's not necessarily Jack, but there is definitely a threat in that regard. We realize there is violence on the water and there is danger on the water and there is the possibility that Alicia has been conned by this guy and we're now in jeopardy because of her. The thing about Alicia is interesting because it speaks about her trajectory and the changes she's going to go through. Of all the people, she was the one who was most locked into her future. She had a very specific plan of what her life was going to be, and she's been rocked at this point. She's at a place where when she hears that voice, it reminds her of someone she might have spoken to before this all ended. It reminds her of Matt. There's a certain level of desperation and need to hold onto the past, and of course that may come back to bite her on the ass.
What else do we need to know going into next week's episode?
We've now learned that it's not safer on water than it is on land, and we're going to be driven back to Terra firma for a time. What's interesting and challenge about the next episode is we talked a lot in the room this season about the other and about the danger of the other, be it people on land or water. What's intriguing to us is this idea that our characters are the other. We will be playing with the idea of what happens when best intentions are inverted and changed and force you into a compromised position. Sometimes when we try to do good, we end up doing more damage than we intended. So it's land based, but it's a pretty specific and heartbreaking episode. It's going to test the teetering alliance between Strand and Madison. It's going to test all of our characters in an emotional and profound way.
Fear the Walking Dead airs Sundays at 9/8c on AMC.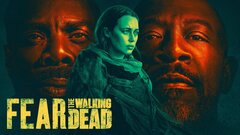 Powered by