9 Key Moments From the 'Married at First Sight' Season 10 Premiere
[Warning: The below contains MAJOR spoilers for the Season 10 premiere of Married at First Sight.]
Lifetime's wild reality series Married at First Sight celebrated a major milestone as it rang in the new year with its Season 10 premiere in Washington D.C.
The new season introduced five couples in a supersized evening of festivities, among the participants are Taylor and Brandon, Zach and Mindy, Katie and Derek (above), Austin and Jessica, and Meka and Michael.To help usher in this new group, we're breaking down the evening's key moments below, but beware of major spoilers.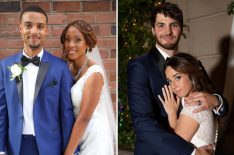 See Also
Five new couples are taking a chance on love in 2020.
Brandon's Negative Reaction
The first couple we met are Brandon and Taylor, and for him, the reaction is rather negative, as he tells his family about his upcoming nuptials with a stranger. The women who raised him including his grandmother are extremely averse to the situation which saddens the man.
Mindy's Sad Situation
Mindy, who is paired with Zach shares her news with an older sister who is skeptical of the arrangement, but supports her. Along with learning her parents aren't supporting the situation though, we learn Mindy has gone through quite a lot including losing one of her sisters to a drug overdose in the past year as well as experiencing a miscarriage herself.
Katie's Support System
Katie who is paired with Derek and is a driven child therapist has the support of her parents and step parents when she tells them about her marriage news, but she has a wrench in her plans when she reveals a former flame who wouldn't commit has resurfaced and is pressuring her to back-out of the show. Her family continues to support her, but a testimonial from her mother reveals she wishes the former flame would back-off and leave her daughter alone.
Mama's Boy Austin
It doesn't take long to learn that Austin is extremely attached to his mother, and her suspicious reaction to his impending marriage leads us to believe, their bond goes deeper than most. Could it be detrimental to his relationship with future wife Jessica? We certainly assume so.
See Also
Divorced, married, and raising children... the results are varied.
Jessica's Twin Thing
As a twin, Jessica is extremely close to her sister, so when she tells her about the upcoming wedding, there's an apprehension there. Could Jessica be entering a marriage for the wrong reasons? We learn during her introduction that she feels like she's not keeping up with her sister who has married and has a baby.
Michael's Emotional Moment
During a rather emotional reveal, Michael shared his marriage news with his sister, who is actually his biological cousin since his aunt raised him. She immediately got filled-up and cried, sharing that she was glad for him, making it one of the night's sweetest reveals.
Dress and Tux
There were some memorable moments for some of the couples during the routine dress and tux shopping sessions. Jessica ended up choosing a gown her sister picked for her, while Austin revealed he'd hoped his wife would pick his tux since he doesn't have much of a fashion sense. Meanwhile, Mindy was sad without her mom around to help, she did receive a lot of support from her friends. Zach's friends accompanied him to his appointment, but remained skeptical about the entire ordeal. During Katie's appointment her mom asks if she wants a cream dress and the girl jokingly asks if her mother's implying she's "impure." Derek in the meantime can't stop putting up finger guns and calling himself James Bond.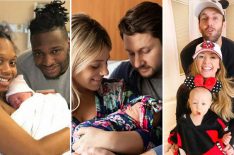 See Also
Four 'MAFS' couples and one from the Australian version have had kids together.
Bachelor & Bachelorette Parties
The night before the weddings is always a wild one and this season is no exception as the men and women convene for a night of fun. For the women it was filled with booze as Katie shared her predicament over having second thoughts, Mindy being sad about her family's absence at the ceremony the next day, and Jessica's awkward dancing. They also discussed the wedding night, Meka and Mindy both agreed they're not setting any hard rules while Taylor and Jessica said they're not "first night stand" kind of women. As for the men, Michael was the leading voice in saying he was open to the first night being anything his new wife wants it to be, shouting out to the #MeToo movement.
Wedding Interrupted?
Katie continues her second-guessing into the next morning with her wedding hours away, and while she and Derek are up first, it's teased that she may walk away before making it down the aisle. Could it really happen? While the show wants to tease, wedding photos of the pair together pretty much answer the question. But we're sure the eventual "I dos," will be a must-see in the next episode, so don't miss it.
Married at First Sight, Wednesdays, 8/7c, Lifetime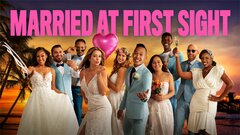 Powered by