'The Americans' Producers: Story For Character We Killed Was 'Done'
Warning! Spoilers ahead for Wednesday's episode of The Americans, "Chloramphenicol."
Fans of the FX drama The Americans are still reeling from the bleak and sudden death of one of the show's original characters, Nina Krilova, played by Annet Mahendru. She was given a death sentence for treason, which had been delayed for a time as she was helping the KGB get meaningful information on the US's stealth technology from reluctant scientist Anton Baklanov (Michael Aronov).
After she had her husband pass a note to Anton's son, her "freedom" was eliminated and her death sentence carried out immediately, via a shocking gunshot to the back of the head.
We've already heard from Mahendru; before the season started, though, the show's creator, Joe Weisberg, and his co-showrunner, Joel Fields, talked about Nina's death. "The end of episode four of season four was something we know we were moving towards for a long time and there was just a lot of story to tell on the way, but we knew what the end game was there for her," Weisberg says.
RELATED: How The Americans Cuts Through the Spycraft to Tell an Immigrant Story
So you knew that Nina wasn't going make it out of Season 4?
Weisberg: We thought she might … The one thing we seemed to be really unsure of is when things are going happen so we actually, for a long time, thought she wasn't going to make out season three, but then there was so much good story there, it just took more time to tell, so the plot didn't change, but if you'd have asked in season one what's going to happen with Nina, we would've had no idea. Is she going to die? Is she going to get killed? Is she going to live? She is she going to…
Fields: Now is she a double agent, triple agent? We would have no idea.
Weisberg: Her fate was sealed at the very beginning of Season 2, basically.
Was there no way to really get her back into the fold of what was going in the U.S.?
Fields: I don't think so. No, I think that if we had felt that there was a really compelling story to tell with her in Russia, I don't think we would've had any issues at all with telling that story. I think we felt that her story was done, that who she was, and what she had gone through had been a complete story, and now it was only logical that the Soviet authorities would have been fed up with her, that they wouldn't give her another chance, that they wouldn't take another step with her, and she had run out of chances.
If the story had gone in a different direction that Anton had done this, she had done that, and it would've made perfect sense for her to then go do X, Y, Z for the next two seasons in Russia, that's the story we would've told. We didn't feel that we had to kill her because she was no longer connected to The Americans' plot.
RELATED: How Costume Designer Katie Irish Creates '80s Fashion for The Americans
But there's going to be obviously repercussions with Noah Emmerich's character Stan Beeman and with Costa Ronin's character Oleg Burov?
Fields: Yes.
Weisberg: Yeah. That is true.
How did Annet take it when you were telling her that this was how it's going to go down?
Weisberg: She physically attacked us.
Fields: I lost an eye.
Weisberg: Yeah, she's tough. Don't be fooled by her. She's very tough.
Did she know that this is where this was going?
Weisberg: We keep that stuff pretty close to the vest, not out of any particularly secretiveness, but because we think it's generally … [We] want the actors to be able to play what's going on at the present in the life of their characters without knowing things that the character wouldn't know.
So when she got the script for episode 4, she had no idea it was coming?
Weisberg: We tell people before they get the script. We're monsters, but we were not cruel monsters.
The Americans, Wednesdays, 10/9c, FX.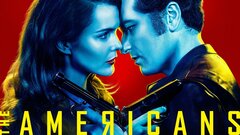 Powered by