'The Americans' Departing Castmember Just 'Getting To Know' Character Before Death
Spoiler Alert! If you haven't watched the April 6 episode of The Americans, stop reading now!
Vechnaya pamyat, Nina! (For non-Russian speakers, that's "Let her be remembered forever.") Wednesday night, in a shockingly abrupt and callous way, The Americans' ill-starred double agent Nina Krilova (sensitively played by Annet Mahendru) met her ignominious end when her Soviet captors put a bullet in the back of her head soon after she committed the most humane act in her tortured life.
In a phone conference, Mahendru shared her thoughts about Nina, her life and death and how the role on FX's brilliant Cold War thriller affected her. Here's some highlights:
She drew inspiration for Nina from The Americans' creator Joe Weisberg's book, An Ordinary Spy.
"Joe worked for the CIA in real life, and in the book the hero meets a woman in similar circumstances. That's when I realized how this really happened to people. It made me understand her better. It always kept me on my feet knowing what a big game Nina was involved in."
Even though she was assigned to spy on him, her decision to help Anton (the Jewish Russian nuclear scientist forcibly returned to the USSR) deliver a letter to his son in the U.S., was for purely humanitarian reasons.
"Anton moved something in Nina. He has a son and she gave all that up when she joined [the KGB]. She finds joy and love in his letters. She had done everything to secure the future of the Soviet Union, this great cause, and here's something so direct—a boy needs to know that his father loves him. She did that and it's the greatest thing she's ever done."
Though Nina desperately tried to avoid her terrible fate, it was worth it to her.
"She was at peace because she did something that allowed her to be who she is. For the first time she is happy and she gives everything up for that moment of happiness. That's her freedom from the tragic and tumultuous life she's had since we meet her."
RELATED: Can The Americans Sustain the Secrets and Lies in Season 4? Stars Weigh In
In the end, Nina forgave most of the people she worked with, especially her onetime lover, FBI Agent Stan Beeman (Noah Emmerich).
"She didn't condemn Stan for not turning [into a Soviet spy] even though that cost her life in America and then her life. She had great empathy. Stan was a decent human being."
Nina's relationship with Stan came full circle in the very last shot Mahendru filmed on the series.
"When she came to see Stan in the dream, it was filmed in the very location where everything started for Nina. That moment we were saying goodbye to Stan and Nina."
Mahendru and Costa Ronin (Oleg) wanted one more scene together.
"That would have beautiful because Nina and Oleg had a very special relationship too. I really like that Oleg and Anton and Stan and even [her KGB boss] Vasily wanted something good for Nina."
The actress was not prepared when she got the phone call that Nina was going to be killed off.
"You wait for that phone call from the get-go, and yet when it finally came, I was angry at [the producers], yet I loved them. I felt everything one could feel. My mother finally said, 'It's not you dying! It's Nina.' [Laughs] It was hard to say goodbye to that part of me that I had tapped into."
RELATED: How The Americans Cuts Through the Spycraft to Tell an Immigrant Story
Mahendru feels she was just starting to understand the character she played for four seasons in her last few episodes.
"It was in the second episode this season where I felt—'I'm getting to know Nina.' She's meeting her husband, she finally has her own mission and after a lifetime of being reactive to situations. she's undergoing the transformation that she really needed. I felt that I had just gotten a taste of her and an episode later—she's dead! [Laughs] That little bit of joy that Nina finally got was over before I could really embrace it. It was really sad. It made me realize what a tragic life Nina lived. And it made me very angry. [Laughs]"
Shooting the scenes when Nina was led to her execution was very difficult.
"She was woken up, told she was being transferred, got all her little belongings, and was walked down that long hall, while she wondered maybe she would be freed. Then I had to experience her being read her death sentence and knowing she was about to die. And do it several times. It was so real. When I did that, as mad and broken as I was I realized it was the most intense thing I ever had to do as an artist. And that was a good thing."
The Russian-Indian Afghan-born actress is grateful that the show's Russians are presented fairly.
"I appreciate that The Americans does something that has never been done before—make both sides look the same. It wasn't bad guy/good guy. I had gone out for a few Russian parts before and they were very stereotypical. I know that culture and I wanted to do something that explored the truth that everyone universally can enjoy and not be black and white. The Americans was unique in that way and I was so blessed to tap into my Russian roots on a show like that. And there was nice moments when we Russian-speaking actors knew that most of the other actor couldn't understand us. [laughs] It was really really fun."
Nina's resemblance to Mahendru only goes so far.
"Nina's a part of me that I had to dig down to find, but I like to think that I am mostly a happy and goofy person."
The Americans airs Wednesdays at 10/9c on FX.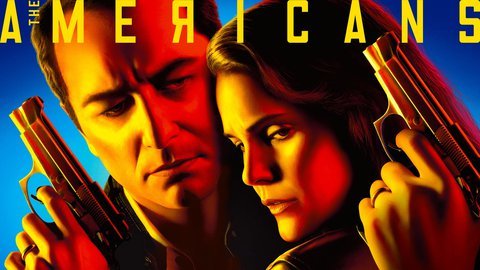 Powered by