'It's Always Sunny in Philadelphia' Renewed for Seasons 13 and 14 The 14th-season renewal will tie the FXX series with The Adventures of Ozzie and Harriet as the longest-running live-action television comedy.
HBO has picked up eight episodes of Sharp Objects, which the Gone Girl author wrote in 2006. Marti Noxon will serve as executive producer of the drama, in which Adams plays a reporter who covers the murders of two preteen girls in her hometown.
As a compromise over the artist change for this year's NCAA tournament, TBS will air the popular Luther Vandross version of One Shining Moment, while TNT and TruTV will use the brand-new Ne-Yo version.
For April Fool's Day, Google released a video of Middleditch as his techie character saying: "All of the problems in the world seem really big, but if we could make those problems really small then they won't seem as big," PLUS: Superstore boss jokes about hiring Bernie Sanders as an "unpaid consultant."
Prinze will emcee the aspiring impressionists show. Carvey will serve as "expert-in-residence."
The Titus Welliver cop drama dropped its second season last month.
Last night's Raised in Television premiere attracted about 1.42 million viewers.
That brings the Season 4 total to 20 episodes.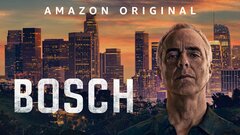 Bosch
where to stream