'Gold Rush' Special: Discovery Remembers Grandpa John Schnabel
When I spoke with Gold Rush star Parker Schnabel a few weeks ago about the new season, the young man seemed optimistic about the health of his grandfather John, who had become almost as beloved a fixture in the lives of the show's viewers as in Parker's own life.
Parker mentioned to me how he gets "tons of people saying that, 'We hope Grandpa's doing well.'" Along those lines, Parker told me about Grandpa John, saying, "He's all right. He's down in California right now getting some health things taken care of. He's on the road to recovery."
RELATED: Gold Rush Finale: Parker Schnabel on Mining Challenges, and Todd Hoffman's 'Personal Issue' With Him
Sadly, John Schnabel did end up passing away peacefully in his sleep a few weeks later, on March 18, at the age of 96. I can only imagine how devastating this was to Parker, who was inspired by his grandfather all of his life. A statement from the Schnabel family read: "We couldn't have asked for a better father, grandfather and overall family man. He was a true legend and we appreciate all of your love and support as we celebrate his wonderful life."
That life will be celebrated in a Gold Rush special called "Remembering John Schnabel," airing tonight at 9/8c on Discovery Channel. Given that the new season of Gold Rush had been filmed before John's passing, so viewers wouldn't have seen an in-show reaction to the loss, it makes sense that a special would be produced in John's honor to help give grieving fans — and the Gold Rush cast and crew — some sense of closure.
The network gave us a sneak preview of tonight's special:
Gold Rush Special: Remembering John Schnabel, April 1, 9/8c, Discovery Channel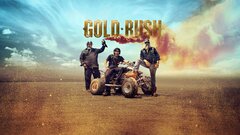 Powered by