'Gold Rush' Finale: Parker Schnabel on Mining Challenges, and Todd Hoffman's 'Personal Issue' With Him
Discovery Channel has, indeed, struck it rich with the hit reality series Gold Rush—which is not only the network's top-rated show, but has remained Friday night's No. 1 non-sports cable telecast for 18 consecutive weeks in key demos. The Klondike winter is closing in, and the final race for gold intensifies in tonight's season ender, preceded by an episode of The Dirt, in which Rush stars Todd Hoffman, Tony Beets and Parker Schnabel face off in person for the first time.
In the supersized Season 6 conclusion of Gold Rush, Todd runs two massive wash plants, Tony pushes to get his dredge out of the water before it freezes over, and Grandpa John comes to see if Parker has beaten Todd, his archrival. TV Insider spoke with Schnabel during a busy press day ("I get seven months of freedom after this," he joked.), with topics that included working in his grandfather's goldmine since he was barely out of diapers and the wildly successful life he's had as a gold miner at the tender age of 21.
What were some of the biggest challenges you faced on this season of Gold Rush?
Definitely the biggest issue we had was replacing Gene. He has a lot of experience. He probably had as much experience as the rest of us combined. Having to figure out how to make this season work without him … obviously, we did, but it was just a bit difficult to consider what would happen. Luckily, [fellow goldminer] Rick Ness did an amazing job. He had a great season. He's a great guy and has made, and will make, a very good foreman for us.
At age 21, you're still a very young man. You've already been doing this for most of your life. How does it feel to be so successful at such a young age?
I don't think that my age has much to do with anything. I started at a young age. I have as much experience as a lot of 30, 35-year-olds that are in construction or in earth moving, stuff like that. It means nothing to me, obviously, and I don't think it means a hell of a lot to many other people, either, that I work with. That's the way I like it.
Do you get a lot of questions from fans about that, about how to get started? It's so cool you've been reaching out to preschoolers.
Some, yeah. Recreational mining is a fairly popular thing in America. I don't know if it's getting more popular because of gold-mining shows. I would imagine it is.
Do people think it's easier than it really is? Do they think it's just a quick strike, and not understand all the work that goes into it?
Yeah, I think a lot of people don't understand the volumes of dirt that we move to get what we get.
They can definitely see all the work that goes into it on Gold Rush. In tonight's finale, do we find out what you got this season?
I don't want to give anything away. Not even exclusive to the finale here, but this was a very good season. People who didn't watch it missed out quite a bit. I think the dynamic is great with Tony and Todd and I. I've enjoyed seeing the shows, the ones that I have seen. Everybody stayed pretty late and pushed everything pretty hard this year. The finale is definitely an interesting one.
Tony, Todd and you will be on tonight's episode of The Dirt that is also airing, facing off in person. What will that be like?
I'm fine with Tony. I work with Tony. He and I get along fine. We have our issues and disagreements, but we're fine. Todd is the one that I was pretty surprised by, when I sat down by him and we had to interact on camera. To me, none of this is a huge deal. I don't take anything that seriously, except making sure that our business is making money and being efficient. [Todd has] really taken this competition to heart, and he has a pretty personal issue with me. I was a bit surprised by that, but at the end of the day I don't care at all.
When you have some time to relax away from work, what do you enjoy doing?
[The job] takes up most of my time, but I do get some time in the winter. Right now, I'm just working on office stuff, getting ready for this season, but I did take a trip over to Australia and New Zealand and laid on the beach for a couple of weeks and drank Coronas. I went to New Zealand and toured some gold mines and checked the place out over there and learned some new tricks and got some tips from the miners there.
Do you get to enjoy the fruits of your success very much, or does most of your money go back into expenses and cost of living?
Lately, we're really expanding our business. Pretty much every penny we get our hands on goes back into the company, and then some.
Did your recent trip make you think of expanding your operation overseas someday?
Probably not.
Do you ever have fans contacting you about wanting a job?
Yeah, we get a lot of inquiries about jobs and people extending their support. It's pretty impressive, the amount of feedback I get. Tons of people saying that, "We hope Grandpa's doing well, and if you need any help, we're more than welcome to come help out." That level of support is amazing.
And how is Grandpa doing?
He's all right. He's down in California right now getting some health things taken care of. He's on the road to recovery.
The two-hour season finale of Gold Rush airs Friday, March 4 at 9/8c on Discovery, to be preceded by The Dirt at 8/7c.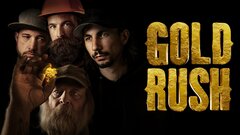 Powered by