'Pretty Little Liars' Sweepstakes: Enter to Win a Flat Screen TV
Calling all Rosewood fanatics! Can you keep A Secret?
Go back and relive all the drama by rewatching the sixth season of Pretty Little Liars to see if you missed any clues about "A.D." among all the steamy drama.
In the meantime, to make you Queen Bee of all things PLL, we are giving away one 32-inch flat screen TV, complete with Blu-ray Disc Player, plus the entire sixth season of Pretty Little Liars on DVD.
Only one winner will take home the full set of goodies, but 24 lucky fans will be receiving the DVD. Enter now to uncover PLL secrets. And don't forget to share this sweeps on Facebook and Twitter! Every time one of your friends enters, you'll get a bonus entry of your own.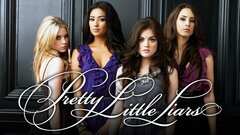 Powered by