'Wayward Pines' First Look: Season 2 Will Focus More on Abbies (VIDEO)
Get ready to head back into the creepy world of Wayward Pines when the show returns for a second season.
When the first season ended, Ben (Charlie Tahan) woke up to find the town under the dictatorial control of the First Generation. Season 2 picks up with Wayward Pines still under the same rule, but with the addition of Dr. Theo Yedlin (Jason Patric), who finds himself thrust into a "brave new world" where martial law takes precedence.
In the exclusive featurette video below, which was unveiled during WonderCon, showrunners and actors tease what fans will see in the new season—like a heavier focus on the bloodthirsty abbies, which may "change everything the audience knew about these creatures," reveals executive producer Blake Crouch, who also wrote the Wayward Pines novels. Townsfolk will soon realize that the abbies control the town, which begs the question, "Is humanity meant to continue on indefinitely?," muses Crouch. Adds fellow exec producer M. Night Shyamalan, "What are the abbies actually really capable of, and what might their agendas be?"
PHOTOS: See the Making of a Wayward Pines "Abby"
Other new characters include CJ Mitchum (Djimon Hounsou) as "The Duster," a town historian who's focused on a specific mission, and Dr. Yedlin's wife, Rebecca (Nimrat Kaur). Fans of the first season will also see the return of Ben, plus Ben's mom, Theresa (Shannyn Sossaman), Kate (Carla Gugino) and Megan Fisher (Hope Davis).
RELATED: More TV News From WonderCon
Watch the video below to learn more about the new Wayward Pines season.
Wayward Pines, Season premiere, Wednesday, May 25, 9/8c, Fox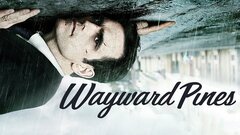 Powered by