'Wayward Pines' Exclusive: The Making of an "Abby"
This summer's scariest monsters are lurking just beyond the electrified fence on Fox's Wayward Pines. The year is 4028, and thanks to a series of genetic mutations, humans have evolved into flesh-eating scavengers known as Aberrations, or "abbies" for short. Instead of utilizing CGI to bring these futuristic creatures to life, the production team behind Wayward Pines used unique and creative make-up techniques on real-life actors. Special effects make-up designer Bill Terezakis gives us a crash course on the making of an "abby."
"We use silicone prosthetic as they more closely resemble human flesh and would film better in an outdoor setting with natural light. We use a silicone bald cap, with a silicone forehead and brow combined in one piece. We widen nostrils, ears, upper and lower dental veneers, and [use] finger extensions to extend fingertips as much as one inch, plus claw talons that fit into the finger extensions, and various scars and cuts."
"An original design called for completely covering the actor in rubber. But I felt this wasn't the way to go and it just didn't look right, so I redesigned it in a more believable fashion that I felt could possibly be the evolution of man. Rather than covering the body completely in rubber, I was able to convince the producers to opt for selected areas, such as a cover for the head, [to have] a more feral forehead, nose and ears."
"The process takes five hours (with bathroom breaks and meals) with three artists."
"The fingers are made out of foam latex. A cup within the foam latex suctions on to the performer's fingertips, which are made of denser polyurethane foam. The talons are made of urethane glossed with acrylic glazes."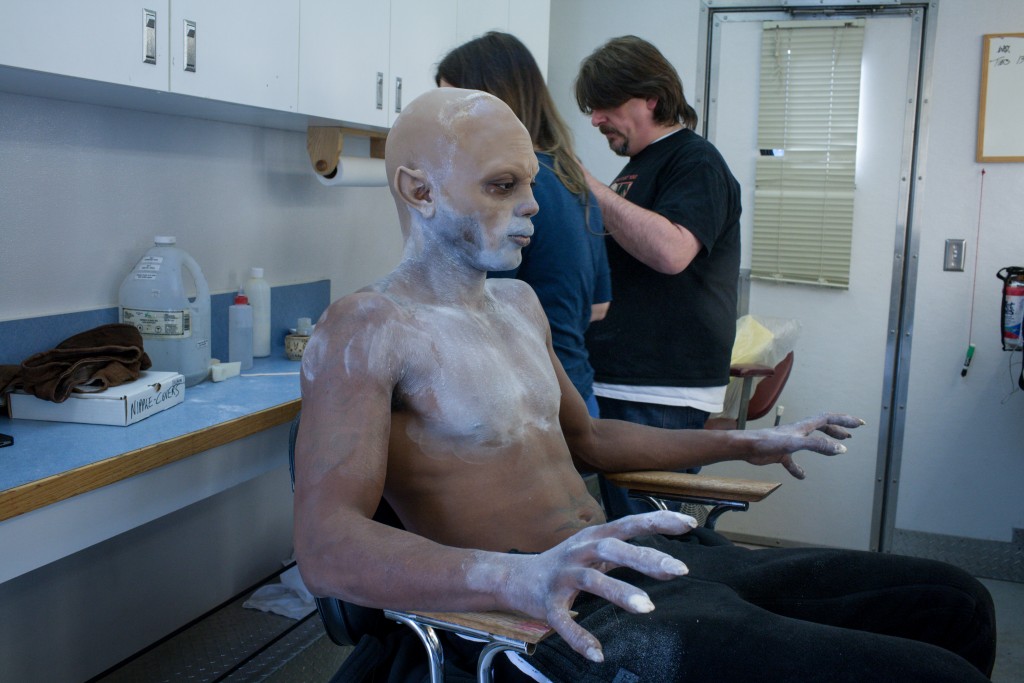 "Every morning before application, we go down to the riverbank to collect mud, dilute it and apply it to the entire body as a mud pack. Once applied, the actors move their joints and crack off excess mud. Once the extra mud comes off, we seal the whole body with make-up sealer."
"The actors are spritzed with four different colors of body paint inks in various browns, blacks and dirt colors. We keep it down to a minimum and work with the anatomy of each actor. Rubber wrinkle stipple is applied to the whole chest, along with scars, cuts and bumps. Depending on the scene, we apply blood if required."
"The blow dryer allows us to speed up the drying time of the various materials and products used throughout the process. We also use the blow dryer to dry each layer of color that we apply to the body for a translucent effect, and to dry the mud application."
The frightening final product.
Wayward Pines airs Thursdays at 9/8c on Fox.