Fox Confirms that 'Wayward Pines' Will Be Back For a Second Season
Fox is returning to Wayward Pines.
The summer series was a big hit for the network – but following the departure of original executive producer Chad Hodge, who oversaw the adaptation of the novel series (by Blake Crouch) and developed it into a TV series, it was unclear whether the show would be back for a sophomore run.
But M. Night Shyamalan (The Sixth Sense), who was also an executive producer, and a driving force behind the marketing of the show, is back, and Fox has agreed to order 10 more episodes of the limited-run series for summer 2016. Mark Friedman will replace Hodge as showrunner.
Fox Entertainment president David Madden announced the renewal on Tuesday.
"Wayward Pines was a huge hit for us this past summer," he said. "We were absolutely blown away by the mysterious and surprising world that Night and his team created, and the twisting-and-turning storytelling that drew viewers in from day one. Season Two is going to take the suspense, the vision of the future and the haunting character drama to whole new levels, and we can't wait for our fans to continue that ride next year."
According to Fox, "the second season will pick up in the wake of Season One, when a new arrival in Wayward Pines finds himself in the middle of a serious rebellion, as the residents battle over how to preserve the endangered human race."
Wayward Pines averaged a strong 2.2 rating among adults 18-49, making it this summer's No. 1 broadcast scripted series among adults 18-49. The show also averaged 9.4 million viewers, including all platforms.
Wayward Pines comes from 20th Century Fox Television. The series is executive-produced by Donald De Line, Ashwin Rajan, Mark Friedman, Blake Crouch and M. Night Shyamalan.
Season 1 starred Matt Dillon, Carla Gugino, Melissa Leo, Terrence Howard, Shannyn Sossamon, Juliette Lewis and Toby Jones. Fans of the show, however, know there's a reason why many of those actors probably won't be back.
Hodge, meanwhile, is busy working on the TNT pilot Good Behavior with Crouch.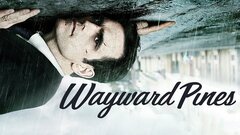 Powered by