'The Rookie's Nathan Fillion Fills in the Blanks on the Second Season
The Rookie's star, Nathan Fillion, had some fun filling in the blanks for our look at the cop show's sophomore season.
Maybe too much fun: We note the parts you shouldn't believe.
What a cliffhanger! The Rookie's action-packed freshman season ended with Officer Tim Bradford (Eric Winter) collapsing after close contact with a hemorrhagic virus. Scary news for the unshakable cop — we'll see how that turns out in the premiere.
As for eager Officer John Nolan (Fillion), in the Season 2 debut we see him masterfully take down a rogue Hamburglar. [Editor's note: It's actually a terrorist.] The LAPD's oldest recruit has now been on the job six months: He's even older and stiffer than he was on Day 1 but still needs to improve at gaining the respect of the TOs [training officers].
Could a clever new detective (Lost's Harold Perrineau) be the answer? He and Nolan get along like peaches and cream. On the home front, perpetual houseguest Nolan is remodeling an ambitious fixer-upper that's a metaphor for his second chance at life.
His love life is the best it's been in a long time thanks to ex–FBI agent Jessica Russo (Sarah Shahi), but a face from Nolan's past — a brilliant doctor played by Ali Larter — could complicate the relationship. No matter what, his fellow "boots" Lucy Chen (Melissa O'Neil) and Jackson West (Titus Makin) have his back.
And all three rookies benefit from a uniform update: short sleeves and hot shorts! [Editor's note: You will not see anyone wearing Daisy Dukes, sorry.] Huzzah! It's no understatement to say that this development is as joy-filled as that one time we all did that one thing that was so great!
The Rookie, Season 2 Premiere, Sunday, September 29, 10/9c, ABC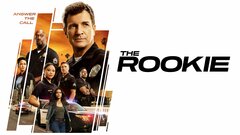 Powered by