'Bates Motel': Nestor Carbonell on the Wedding of Romero and Norma Bates (VIDEO)
If you fall for a manipulative, emotionally unstable woman who happens to have a dangerously delusional son, what should you do? If you're Alex Romero (Nestor Carbonell) on Bates Motel, the sheriff besotted with Norma Bates (Vera Farmiga), you marry her, of course. Romero is a man with plenty of his own dark secrets, so we spoke to Carbonell to give us the scoop on tonight's big wedding episode (and more). Plus, watch an exclusive clip below of Romero and Norma's wedding vows.
Tonight's episode is titled "Till Death Do You Part." Is Alex preparing his will before marrying Norma Bates?
Alex has been after Norma for a while; he quickly realized that she was a match for him. But he's got a pretty good sense of what he's getting into, given his relationship with Norman (Freddie Highmore), as well as investigating Miss Watson's death and Norman's [sexual] relationship with her. He knows it's not easy territory. We'll find out soon enough if he has buyer's remorse!
Can you promise that Alex will live through the episode?
I think it's safe to say he'll live through the episode. Beyond that, all bets are off. Who knows what happens to any of us on Bates Motel? That's what's so exciting about the wedding, as well as the show. The writers come up with crazy twisty turns. Needless to say, we're all shocked every time we pick up the next script.
Is Norma using Alex, or does that even matter to him?
What's interesting to Romero is that she's tough. They're both control freaks who've had issues of trust for years now. Norma's been burned so many times, but Romero feels he's also been burned. We get to see a bit of his back story in this episode, what's behind his elusive character. It's fair to say that in this episode, you see a softening of this character, due to his love for Norma. He'll speak a lot more in this episode. She's essentially opened him up as a result of his love for her.
What kind of wedding will they have? Is it legal?
It's not exactly conventional. It's by the book on paper, but it's sort of backwards. Nothing that happens to them happens in a straightforward wedding. It's certainly fun. There's tenderness and there's awkwardness.
Will this marriage be consummated? Norma's marrying Romero so he'll pay for Norman's confinement in a psychiatric hospital, after all.
It's not something that Norma has an issue with. When she proposed, she said, "I'll sleep with you if you want." That was a little emasculating for Romero. I think if it happens, it has to be on his terms, not necessarily hers.
In his backstory, will we see his ex, Rebecca, played by Jaime Ray Newman?
Yes. That relationship will be qualified more in the next few episodes. In the third episode, he tells Norma what he thinks of his past. She's someone who has given him hope that perhaps there is someone for him.
Will we see Rebecca only in the past?
You'll see her in the present as well. We'll find out what she wants. She's got a great arc on the show.
Will she cause trouble for Romero? Since both Romero and Norman have already killed, she probably shouldn't anger either one of them.
Let's just say her presence will be felt.
Meanwhile, is Norman in Pineview Sanitorium when Romero marries his mother?
We'll see what happens if and when he finds out that's happening, but right now, he's at Pineview, paid for by Romeo with the murdered Bob Paris's money until his insurance comes through. I can assure that nothing that happens next is conventional in the very best possible way. It's charming and a little different fare for Bates Motel. It's one of my favorite episodes, and we had a lot of fun.
Norman must be seething; he already hates the Sheriff for hanging around his mother and now he and his deputies are taking him to Pineview.
Romero doesn't know how Norman will feel about his covering the costs of the facility, but he has a bit of a big daddy god complex. He really thinks that he can fix all. Whether this turns into an Achilles Heel is yet to be determined. He really believes he can have an effect on Norman with the help of therapy. We'll see how long his treatment lasts, but it's been very well-researched by the writers. It was important for the show to explore what treatment would be available for someone in Norman's position. Is it possible to treat someone like that?
Is it a good way to give Norma and Alex's relationship a minute to breathe?
Yeah, but we'll see how much breathing we'll get. Romero has some hopes that things can go his way with Norma. Whether they materialize is not will have to play out.
PHOTOS: TV Characters Who Are Better Off Single
The Sheriff, of course, is the one who killed Bob Paris. Is anyone trying to solve that case?
His absence has been felt in the town. As for Romero, he struggles with what he did. Although he hated Paris, he grew up with him; their fathers were friends. He murdered Paris because Norma was in such a dire predicament, and he could have implicated her son with all the things he found about Norman through the therapist she dated. Nonetheless, that weighs on Romero.
He already killed for Norma. What else will he do for her?
Exactly. Is she Helen of Troy and Romero, Paris? We'll see if there's a limit on what he'll do for her. He's devoted to her. We'll see if that's reciprocated.
How will Norma's older son Dylan (Max Theriot) take the news of the marriage?
Dylan and Romero had their struggles, but they made peace and Romero tried to anoint him the town's drug lord. Dylan declined, but there's respect between them. Of course, Dylan has issues with his mother.
Ok, I guess we won't get to see Norma Bates in a white wedding gown.
Why not? Isn't this her first romance? I'm assuming that's what Romero believes. [Laughs]
[jwplatform TCvWdXtA]
Bates Motel, Monday, 9/8c, A&E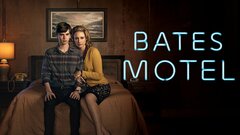 Powered by