Norman Gets Nearer to His 'Psycho Psyche' on 'Bates Motel'
Hello, Mother. Last season's heartbreaking finale of Bates Motel revealed that Norman (Freddie Highmore) had killed his onetime crush Bradley (Nicola Peltz) after taking on the persona of "Mother," a jealous, murderous version of his ever-loving mama, Norma (Vera Farmiga). "I've always found it relatively easy to go home and not dwell on Norman's problems," says the 24-year-old British actor, who plays the teenage version of the iconic killer.
RELATED: Keep Track of New and Returning Shows of 2016
This season, that might not be so easy, because the show is digging much deeper into Norman's increasingly psycho psyche. "We see the start of the relationship between Norman and this fictional Mother who he believes killed the women that he actually murdered," Highmore says.
As for his real mom, "she will finally get outside help for Norman," says Highmore, who also wrote this season's eighth episode. "But that leads to a distrust that starts to grow between them." With Norman's brother, Dylan (Max Thieriot), distracted by helping his new girlfriend, Emma (Olivia Cooke), who's undergoing a lung transplant, and Norma growing closer to beau Sheriff Romero (Nestor Carbonell), which angers Norman, "he starts to lose track of reality and slip more frequently into this other persona," Highmore teases. "You could say that this is the season that all hope is lost."
Bates Motel, Season premiere, Monday, March 7, 9/8c, A&E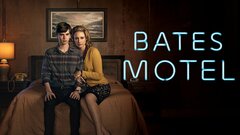 Powered by