5 Things Coming Up in Tonight's Dark and Twisted 'Scandal' Episode
As the presidential race heats up in real-life, on Scandal, things are equally as dramatic.
In last week's episode, Cyrus (Jeff Perry) finally nabbed his candidate, Francisco Vargas (Ricardo Chavira), thanks in part to Cyrus' fib about his (nonexistent) dead brother. "There aren't enough fires in Hell for Cyrus," Perry laughs. The fib—while, arguably, not the most devious thing Cyrus has said/done—comes from his single-minded pursuit of success. "I think Cyrus wants to win," Scandal executive producer Shonda Rhimes says. "Cyrus and Olivia, they both want a candidate. They both want to win; they want something to believe in."
If Cyrus was able to pull off a victory, it would be monumental that he was able to help both a Republican and a Democrat become president. Plus, the win would also be one he could (potentially) claim that he self-orchestrated. "I think it would mean a lot," Perry notes. "He brought Olivia on to the campaign the first time around, and I think he's very smart and very capable in that way. Ambitious people are not normally so narcissistic that they don't want good help. But, he could be chief architect; that would resonate in the political history books. Cyrus wants that."
"It's going to be a very cool race, when you think about who is entering: Mellie, Susan," Perry adds. "I think the main challenge is going to be for the writers to outdo reality of what's going on [in the real world] right now."
RELATED: Scandal Cast and Producers on the 'Olitz' Breakup
Though winning the election is the goal, Cyrus will have a bigger problem in the more immediate future: his betrayal of the Grant administration won't stay quiet for long. Generally, he's "pretty good at keeping track of the layers of lies," Perry points out. However, he hasn't had to contend with Abby (Darby Stanchfield) before. "[Abby] doesn't look the other way, and there are consequences," Stanchfield teases. And that's only the start of the drama in store on Scandal. Rhimes and the stars share more of what's to come.
There will be details about Jake's (Scott Foley) engagement.
Olivia (Kerry Washington) was baffled in the last episode to learn her off-on boyfriend, Jake, was engaged to another woman. "I think that's going to add to her suspicions [about the relationship]," Rhimes notes.
In tonight's episode, Olivia takes drastic steps to find out what's really going on. "I think [Huck's] kind of worried she's spending a lot of time with Jake and Rowan," Guillermo Díaz (Huck) says. "There's something going on there. I think he's hoping she snaps out of whatever bubble she's in. It's hard for her to see it, because she's in it, but he's seen it from his own perspective. Like, 'What are you doing with these guys? Don't you know what these people have done?'"
And what role does Papa Pope (Joe Morton) have in whatever Jake may (or may not) be up to? "He's always a man with a plan," Morton acknowledges. But even Morton isn't totally clued in to what's going on: "I don't know exactly what's going on. I have a sense of what the plan is."
Quinn is stepping up in the OPA.
With Olivia otherwise engaged, "Quinn is the spine of OPA," Katie Lowes (Quinn) says. "I feel like she's so strong and grounded this season. I think it impacts her most of all that Olivia is gone. I think Quinn worries about the business falling apart and our clients." When a problem spirals out of control, "you're definitely going to see how Quinn deals with the bubbling anger and frustration and resentment," Lowes teases.
On the outside still looking in is the newest OPA member, Marcus (Cornelius Smith Jr.). Though he inched a bit closer to the group in the last episode, "I think it's a big hill he has to climb; I think he knows that," Smith Jr. says. "What I think happened with [the last episode] was a crack; a crack in the armor. He'll keep chipping away, and every bit is progress." The actor continues, "I think he'll keep carving away to really break through. We haven't seen Marcus really break through; he's on the outskirts, in the darkness a little bit. It's a good step in the right direction, and he has more steps coming up."
Every should beware of Huck.
Although Huck chose to watch his family from afar, in tonight's hour, "Huck is being controlled by his emotions," Díaz previews. "He's really, really missing his family; we're going to touch on that in this episode." He continues, "I don't think there's any step Huck will not take for his family. I think he's really trying to be a different man. He's trying not to go down that dark path any more—he's trying to do the right thing. But with that said, he would still do anything to protect his family. That gets in him trouble, sometimes."
Fitz (Tony Goldwyn) is reforming his behavior.
Though Fitz is single, his parade of women caused quite the headache for Abby. "I think Abby is babysitting, chaperoning, damage-controlling, gladiating," Stanchfield laughs. "I don't know if Abby is looking for the end, or if there's an end. I think she's just really, really happy there's a system. Abby's winning because there's a system. Beyond that, who knows."
And now that Fitz has promised Susan (Artemis Pebdani) he'll be a man worth endorsing her run for president, "he's going to focus on his legacy and making his last year or so in the White House mean something," Goldwyn says. Though Fitz's ex, Mellie (Bellamy Young), is also running for president, Goldwyn feels his character has no regrets about not backing her. "I don't think Fitz feels guilt," he says. "I think he thinks her behavior is so egregious that nothing will get him to support her [candidacy]. I think he thinks she's morally corrupt."
As for Fitz's heart, Goldwyn acknowledges his character is still in love with Olivia, but "he's trying to move on."
One romantic possibility for Fitz? The return of Lillian (Annabeth Gish). "You're going to discover she might still be a big part of his life," Rhimes says. "It's an interesting moment, to watch him get to where he's at." Goldwyn adds, "I just love Annabeth Gish; I love that relationship. She's another very substantial woman."
Mellie and Olivia's new relationship is thanks to a natural evolution.
After spending years personally and professionally entangled with the same man, Mellie and Olivia have found a new kind of friendship. "They're evolving, they're growing up; that's the best part," Rhimes says. "The idea that women are catty and there's a guy and that's everything [is untrue]. The idea that they evolved is fascinating. And frankly, there's a reason why he was in love with both of them: they're very similar in a lot of ways."
Scandal airs Thursdays at 9/8c on ABC.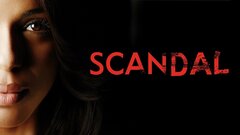 Scandal
where to stream
Powered by