Meet TV's Hot New Psychic, Hollywood Medium's Tyler Henry
He looks like the boy next door, but there's nothing ordinary about Tyler Henry. The 20-year-old star of the E! series Hollywood Medium With Tyler Henry (Sundays, 10/9c) claims he can channel the dead and he delivers the proof, in startling details that can't be googled, to a kicky roster of celebrities—among them, NeNe Leakes, Amber Rose, Margaret Cho, Michael Sam, Bella Thorne, Candis Cayne, Jaime Pressly and Boy George.
The series, which debuted January 24, is E!'s highest-rated reality launch in three years (not counting spinoffs) and has already been renewed for a second season. Of course, the cynics are out in full force, labeling Henry an opportunist who preys on the grieving.
"There's a big difference between cynicism and skepticism," says Henry. "Healthy skepticism is important, especially when it comes to the spiritual field. In fact, I consider myself a skeptic because there are people out there who call themselves mediums who are not well-meaning. There's one on every corner in Los Angeles. They misrepresent what we do."
Henry doesn't drive—a brain cyst and ministroke at age 18 convinced him to stay off the road—and he's often driven to his celebrity sessions by his mom, Theresa, who patiently waits in the car while her kid contacts the afterlife. "Trust me, I don't mind being chauffeured through the crazy L.A. traffic," Henry says with a laugh. "I plan to milk this for as long as I can."
He rarely recognizes the celebrities who welcome him into their homes, though he did flip out when he got to do a reading with Nicole "Snooki" Polizzi, whom he pronounced "better than Oprah." Seriously?
"Tyler is just a simple kid whose idea of a good time is sitting on the porch of the family farm in Hanford [California] and looking out at the trees," says the show's executive producer Michael Corbett. "He rarely watches TV. He's a quiet, not at all flashy kind of guy and sometimes our celebrities—like Boy George—get a little annoyed when he doesn't know them."
The Emmy-winning Corbett, who played supervillain David Kimble on The Young and The Restless and is now in his 10th year as host of Extra's Mansions and Millionaires, insists he was a "total skeptic" when he was introduced to Henry by a mutual friend at a Christmas party and agreed to have a reading with him. "Tyler tapped right into two people I knew who had committed suicide and gave me horrifyingly shocking details about who they were and how they died—things that could not be researched in any way," Corbett recalls. "By the end of the reading I was a firm believer and knew I had to create a TV show for him. That was two years ago. Within six months, we had networks bidding to get him."
Corbett swears the celebrities on Hollywood Medium are not pre-interviewed before Henry meets with them. "It keeps everything clean," says the exec. "We don't want anyone saying, 'Well, of course Tyler knew my grandmother was a dancer with the Follies. I told that to the producers!' We also never reveal or discuss the names of the stars we've booked during any of our production meetings. Everyone is given a code name."
The show's debut marks Henry's 10th anniversary as a medium. His first experience with psychic phenomena came in 2006 when he awoke one night "with a deep conviction that my grandmother was going to pass," he says. "The information felt very clear to me—like a memory that hadn't happened yet. I rolled out of bed and told my mother about it and, moments later, we got the call that my grandmother was dead." In time, he began doing readings. "I don't know why I was chosen to have this ability," Henry says. "Perhaps it's tied to my grandmother. After her death, she visited me many times in dreams. Maybe I kept that door open and it allowed other people to come through. I really can't explain it any other way."
Henry is well aware that his view of the afterlife flies in the face of religious dogma. "I have no reason to believe Hell exists and have never had anyone come through in a reading and acknowledge they are there," says Henry. "I know that conflicts with a lot of people's religious beliefs, but I choose to focus on the beliefs we have in common—that there is a higher power and that physical death is not the end. Our loved ones do continue on."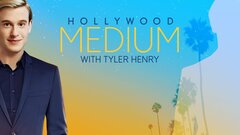 Powered by