'Supergirl' Cast and Producers Tease Kara's Dangerous and 'Badass' Turn
In Monday's new episode of Supergirl, Kara (Melissa Benoist) exhibits unusual behavior when she's exposed to red Kryptonite.
"I think that [the March 14] episode is about answering some questions; all the emotions she's had burning all season really have a chance to find their voice," Supergirl executive producer Ali Adler said during the show's PaleyFest panel. "All the things she wishes she could say in her darkest self come out, and they don't come out gently. At the heart of it, she's speaking the truth."
RELATED: Why Supergirl's Kara Danvers Is One Kickass Woman on TV
"It really sets up not only the larger, bad guy plan for later, but the demons we fight within ourselves are generally the greatest villains we have," Adler continued. "I think that everyone comes together and gets ready for the larger forces that are upon us."
The episode, "Falling," is a personal favorite of Adler's, she told TV Insider before the panel. "Normally, Kara is sunny and bright, and though she can be emotional, [in this hour] she gets to be on the darker side," she noted. "It's amazing what Melissa Benoist does with that; it seems like another character. It's really fun."
Benoist admitted she relished getting to play Kara's darker side. "It was honestly the most fun I've had all season," she said. "I wish that the arc had lasted three episodes. It's fun to be a badass."
RELATED: Details on Supergirl's Crossover With The Flash
The move comes after Kara had her world rocked: Alex (Chyler Leigh), Kara's sister, finally admitted she was the one who killed Astra (Laura Benanti)…and she let Hank (David Harewood) take the blame. Though Kara was upset, she ultimately embraced Alex and Hank.
"I think it was a wonderful scene," Harewood praised. "A very moving scene where we saw Kara decide to bury the hatchet and move on [and realize] we are stronger together."
"It was such a big step for her to take the step towards forgiveness," Benoist added. "I think their bond is strong enough to survive anything to their relationship. But, that being said, like all sisters, they have things between them that are uncomfortable that they need to address."
Familial relationships won't be the only things at stake in "Falling": Winn (Jeremy Jordan) is newly entangled with Siobhan (Italia Ricci), and James (Mehcad Brooks) is newly single now that Lucy (Jenna Dewan-Tatum) dumped him due to the simmering feelings he has for Kara.
"That certainly took him by surprise; I don't think he even thought of her in that way," Jordan said of Winn and Siobhan's coupling. "There's definitely something brewing there, and we get to see that play out in the next few episodes. It comes to a head in the crossover episode, which is probably one of my favorites of the season."
Things won't be as smooth for Kara and James, though. "They work together; it's a grey area," Brooks said. "Having feelings for someone is complicated anyway, but when you add in all the Supergirl aspects, if I make her angry, she could freeze breath me! You have to tread lightly."
Ah, the drawbacks to (potentially) wooing a superhero.
Supergirl airs Mondays at 8/7c on CBS.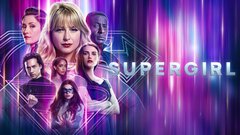 Powered by