First Look at Curtis Stone as Trevor Porkpie on Disney's 'Vampirina' (VIDEO)
Get ready to eat up the June 28 episode of Vampirina, the animated musical about a young Transylvanian vampire transplanted to Pennsylvania who's trying to fit in among human kids.
Michelin-star chef Curtis Stone (and dad of two boys, ages 7 and 4, with actress Lindsay Price) guest voices Trevor Porkpie, the host of a cooking show on which Vampirina's family chef, Remy Bones, vies to be named Best Chef. Little Vee's sage advice to Remy: "Cook from your heart."
See Also
Plus, get an exclusive sneak peek and find out when the animated series returns!
Below, Stone shares why he took on the role.
What drew you to Trevor Porkpie?
Curtis Stone: Everybody wants to be a hero to their kids, and mine love Vampirina. I watch it with them and really like the message. It's positive, sweet and kind, funny but not sarcastic. Getting to be on it was a thrill.
How was it to be in front of a mic instead of a stove?
Fun! We did lots of reads, which sounds boring, but when you're in the booth and you say something that makes everybody laugh, it feels good. I also was surprised how involved making an animated show is. It'll be fun to share it with my kids. I honestly don't know if they believe [that I'm on it]!
Catch an exclusive sneak peek at Stone's guest role below:
How would you handle a pizza challenge like the one Remy faces?
I would keep it simple: delicious tomato sauce, mozzarella, sausage, some chili flakes. Maybe that's what I'll do the night [before watching the show] — make pizza and popcorn.
Vampirina, Fridays, 9:30am/8:30c, Disney Channel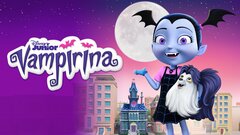 Powered by