Shannon Reaches a Special Milestone on 'The Real O'Neals' (VIDEO)
The Real O'Neals' Pat (Jay R. Ferguson) has big plans for St. Patrick's Day: to continue his leprechaun hunter tradition for the town's parade. But getting his daughter, Shannan (Bebe Wood) to dress up as the leprechaun to his hunter may lead to a conversation that he doesn't want.
The growing-into-womanhood Shannon already has reservations about the silly getup: "As I get bigger, both my costume and my dignity shrink. Face it. I'm getting too old for this!" Still, she reluctantly tries on the outfit to humor Pat…only to make a surprising discovery that definitely puts the costume conversation on pause.
Check out an exclusive clip from the episode, "The Real Lent," below to find out what's in store for the duo.
[jwplatform wlgiJMGE]
The Real O'Neals airs Tuesdays at 8:30/7:30c on ABC.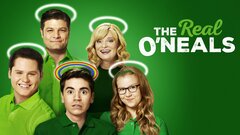 Powered by