Watch My Show: How to Get into the 'Recovery Road' Habit
Although many primetime series have dealt with addiction, Freeform's Recovery Road tackles it from a unique perspective: Teenagers. The show, based on a novel by Blake Nelson, centers on a girl (Jessica Sula) who must balance teenage life while living with other recovering addicts at a sober living facility. The show is produced by Pilgrim Media Group; executive producers Bert V. Royal and Karen DiConcetto filled out our "Watch My Show" survey, to explain why Recovery Road is a positive addiction.
I've got room in my life to watch just one more show. Tell me why it should be yours.
Royal and DiConcetto: Because our show will feature guest appearances by Beyonce, Tom Cruise and First Lady Michelle Obama. Okay. We're lying. None of those people are going to be on the show. But we still think you should watch.
Who should be watching?
Royal and DiConcetto: Everyone who's ever had a problem with addiction or know someone who has. That's pretty much everybody, right? So, yeah. Everybody.
What happens if we don't watch your show?
Royal and DiConcetto: We won't get to market "The Recovery Road Board Game." It's kind of like "Candyland," but with meth and stuff.
What's the best thing anyone has said or written about your show?
Royal and DiConcetto: Bert's mom: "I'm just glad that you're not allowed to use the f-word on the network." Karen's mom: "It's funny… gripping… romantic. I like it even better than Castle."
What's the worst thing?
Royal and DiConcetto: Karen's mom: "…but not as much as The Mentalist."
Who was right?
Royal and DiConcetto: Can't both be winners?
What's an alternate title for your show?
Royal and DiConcetto: Maddie… You In Danger, Gurrrl.
Give us an equation for your show.
Royal and DiConcetto: 28 Days minus Sandra Bullock, multiplied by Celebrity Rehab with Dr. Drew minus the celebrities and Dr. Drew, divided by Extreme Makeover: Home Edition minus anyone doing manual labor.
Come up with a premise for the spin-off.
Royal and DiConcetto: Little Sober House on the Prairie. Vern (Daniel Franzese) moves to the country and teaches people the value of recovery and the joys of accessorizing.
What credit of yours would you prefer we forget?
Royal: I played "Doody" in a high school production of Grease. Our small town newspaper reviewed it and the headline was "Grease AIN'T the Word." Shattered.
DiConcetto: I played a cigarette in an educational musical called Smoke Opera. I sang a song called "Smoke Me."
Tell me one thing about your cast.
Royal and DiConcetto: They're all PHENOMENAL singers—with albums and Broadway credits–and you'll get to hear them sing in our season finale!

What other series would you most like to be an executive producer on?
Royal: The new Twin Peaks (Dear Mr. Lynch, PLEEEEEEEEEASE!!! Yours Truly, Bert V.)
DiConcetto: You're The Worst.
Let's scare the network. Tell us an idea that didn't make it on to the screen.
Royal and DiConcetto: In Episode 5–directed by David Paymer and written by Nic Sheff –there was a scene where one of our characters bites someone's nose. Hard. And it's still there. Only with a LOT less blood gushing.
Finish this sentence: "If you like _______, you'll love our show."
Royal and DiConcetto: Pizza!
Pick another show, any show, to start a fake feud with.
Royal and DiConcetto: Making a Murderer.
What other show would you like to do a cross-over episode with—and how would that go?
Royal and DiConcetto: Dora the Explorer. We're guessing it wouldn't go great, but we've had our suspicions about Dora's habit for some time now.
How will your show change the face of TV as we know it?
Royal and DiConcetto: Philo Farnsworth invented the television. He was also an alcoholic. We'd like to think that our show was the entire reason television was invented—but that might be a bit of a stretch.
Recovery Road airs Mondays at 9/8c on Freeform.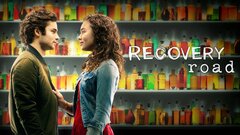 Powered by