First Look at 'Recovery Road', ABC Family's Addiction Drama
Addiction comes in all shapes and sizes, and next month, it is coming in the form of Recovery Road, a new drama set to premiere on Freeform, the artist formerly known as ABC Family.
Based on the young adult novel by Blake Nelson, the series centers on Maddie (Jessica Sula of the UK's Skins), a teen party monster who is ordered into a sober living facility after being busted by her mother (Sharon Leal) and guidance counselor (Alexis Carra) for being loaded at school. In the exclusive photo above, the still-in-denial Maddie (top right corner) is a begrudging participant in her first group meeting with her fellow housemates, who include Mean Girls' Daniel Franzese, Kyla Pratt of the Dr. Doolittle films and The Glee Project's Lindsay Pearce. The cast also includes Sula's Skins costar Sebastian de Souza and Hand of God's Paula Jai Parker.
Given the painful realities of alcohol and drug addiction, building a relatable drama around someone in early recovery could be problematic. But executive producers Bert V. Royal and Karen DiConcetto see that not so much as a challenge as they do the chance to show young people that there is life—and even laughter—beyond the bottle.
"When people are in recovery, especially in the early stages, people are stripped of the coping mechanisms they've relied upon to numb their feelings, and with that, everything becomes heightened," says Royal. "The painful is more painful, the joys are more joyful…and the best way to cope is with a large dose of humor." Just don't expect this to be a Mom-like jokefest once Maddie puts the plug in the jug. The pilot is a sensitively rendered, often heartbreaking hour that doesn't hold back on the wreckage addiction can cause to one's health, freedom, family and friends.
Recovery Road is slated to premiere on Freeform on Monday, January 25 at 9/8c.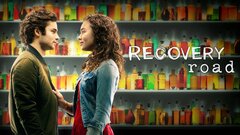 Powered by