Take a Tour of the 'Recovery Road' Set With Daniel Franzese (VIDEO)
PgiPWA5E
Maddie's (Jessica Sula) big secret is out, and now you can learn all the secrets of Freeform's Recovery Road set as well.
Check out the exclusive featurette above for a grand tour of the set for the new teen drama about addiction. The video gives us the nitty gritty details on Maddie's rehabilitation center, Springtime Meadows, including the basement, bedrooms, bathroom, outdoors, and the "one step at a time" staircase.
RELATED: Why You Should Be Watching Recovery Road
Star Daniel Franzese (Mean Girls), who plays recovering addict Vern, walks around to reveal fun tidbits and facts, like how parts of the former set are from the 1992-1999 Fox soap opera Melrose Place, and how showrunners Bert V. Royal and Karen DiConcetto have a special spot in the main foyer.
Recovery Road airs Mondays at 9/8c on Freeform.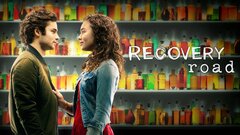 Powered by