First Look: Mischa Barton Hits Rehab on 'Recovery Road' (PHOTO)
Welcome to A.A., bitch!
The O.C.'s Mischa Barton is checking into Recovery Road and we have your first look at her guest spot as an addict who shakes up the drama about a wild teen (Jessica Sula) sentenced to a sober-living facility.
RELATED: Don't Expect Recovery Road to Be 'an Afterschool Special'
"We had a blast creating this character with Mischa," says executive producer Bert V. Royal of Barton's Olivia, a patient from another rehab center who strikes up a friendship with Vern (Daniel Franzese), another resident of the show's central recovery house, Springtime Meadows.
In a case of art imitating life, the former Marisa Cooper from The O.C. famously revealed in a 2013 People magazine story that she had been court-ordered into rehab after her 2007 DUI, followed by a 2009 stay in a psych ward for what she called "a full-on meltdown." Now healthy, it sounds like Barton's first-hand experiences helped inform her colorful Recovery role. "She saw the ridiculousness of the character, yet still managed to make her seem real and likable," continues Royal's fellow executive producer Karen DiConcetto. "She's a really clever and lovely actress."
See a photo of the full scene with Barton below.
Recovery Road premieres Monday, Jan. 25 at 9/8c, on Freeform; Barton's episode is slated for February 15.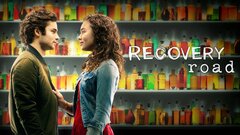 Powered by