Downton Abbey's Gareth Neame on the Final Season, Movie Timetable and the Show's Legacy
The impact of Downton Abbey will continue to be felt long after the show ends its run next season. It continues to be an international sensation, seen in 250 territories, and has ushered in a revolution in how American television is produced and viewed.
Downton's serialized short seasons were ripe for binge viewing just as binge viewing became a thing. Downton was also the biggest import hit in decades on U.S. TV, and helped revitalize PBS (thanks to WGBH's Masterpiece label), so much that the public broadcasting service is getting back into the original series game.
"Inevitably there comes a time when all shows should end and Downton is no exception," says Gareth Neame, Carnival Films managing director and the show's executive producer. "We wanted to close the doors of Downton Abbey when it felt right and natural for the storylines to come together and when the show was still being enjoyed so much by its fans."
Rumors that Season 6 would be the end kicked into high gear in January, when NBC Entertainment chairman Bob Greenblatt told reporters at the Television Critics Association press tour that Julian Fellowes (who writes every episode of Downton) was shifting his primary focus to The Gilded Age, a new period drama for the peacock network. NBC Universal also owns Carnival Films, and was privy to when Downton was ending.
We spoke with Neame about the decision to end the show while it's still a big hit, the Downton legacy and when (or if) a movie will happen.
Why announce the decision today?
One of the complications for the timing of this is in the two principal markets, in the U.S. and the U.K., the show airs in different times of the year. In Great Britain it's September through December, where in the U.S. it's January through March, and I didn't want any announcement about the end of the show to happen during the course of the airing of Season 5. We wanted to get to the end of Season 5 and then tell you that Season 6 would be the last. The show just ended airing on PBS a few weeks ago. And in the interim, we've been in discussions with ITV and PBS and all the other stakeholders to work out an optimum date to announce this. They all have their own media planning and scheduling and things they're announcing. For reasons best known to other people, today was the day.
In January, Bob Greenblatt announced The Gilded Age was back on the front burner, which triggered speculation about the fate of Downton. How did that impact the decision?
It didn't make any difference. I already knew by then that we were going to end the show. We had already started working on the scripts for next year. That announcement by Bob didn't really make any difference. I just wanted Season 5 to play out before we said it was coming to an end.
Is 11 hours enough time to wrap the show up? Were there any discussions about adding a few more hours?
No, we never had that discussion. It's quite finely tuned the number of hours we do and the reasons we do it that way. One of the major strengths of the show is that Julian writes every episode. Eleven hours is a fairly extraordinary task. We wouldn't want to add more episodes for that reason. And it's not like we film the whole thing on a backlot, we are in an ancient building that is privately owned. We have to work around that. So it was never in the cards, but 11 hours still means an incredibly dense, compact and exciting final season. We'll begin to see all the questions that people want to know answered. Will Anna and Bates ever get a break? Will Edith ever smile? All these things we can now enjoy seeing what happens to them and where they end up.
Have you talked with the actors about where they'd like their characters to end up?
That isn't really something that happens. There is integrity in what Julian writes and the way he's created these characters. We're democratic in some ways on this show, but we never sit down and have a great big script conference and everyone pitches in on where they'd like their characters to go. That would be a free-for-all we don't want to do.
You made it clear there's nothing in place for a Downton movie yet. When is the right time to start seriously considering it? Would you want to wait a few years before tackling such an idea?
I can't give a clear answer. It's only something we're contemplating; it's not a firm plan. But I would say that now we know we're coming to the end of a television series, which we're working on all this year, it will end at the end of this year. We are then clear of the TV show and at that stage we can start thinking about what the movie would be and when we might do it.
Does that mean you'll leave some loose ends to potentially carry on into a movie?
I don't think we're going to kill them all. The narratives of these fictional people will continue once the camera moves away. They will move on into the future. And I think a movie could be completely stand-alone. It doesn't need to directly pick up from the TV show. It could come before it or midway through it. It's a very different story than the series.
Are you completely ruling out a spinoff? Any chance of one down the road?
Never say never. It's not something we're thinking about right now. I wouldn't want to be involved with Downton Abbey without Julian. It is his show, he created it. The idea of Julian moving on and we get some other people to create the spinoff, that's not something I would want to do. You never know, sometimes with these huge iconic brands, you can't rule out the fact that long after we're retired somebody might come in and say, "You know, that Downton Abbey, we could remake it or spin it off." I don't think it will be involving me. Well, maybe when I'm 92 I can get some consulting work for pension money.
You said today killing off characters like Matthew actually helped with the show's narratives, giving it "rocket fuel." But in hindsight, I imagine you still wished you could have locked in the cast for longer-term deals.
That's a question like, "Would you like to be blonde and 6-foot-5 and 20 years younger?" The answer to all of that is probably "yes." You just accept the way it is. Because the British system wasn't industrialized in the same way as American television, British actors have quite a different career structure. There's no way we're going to be able to re-invent the wheel and suddenly everyone gets Hollywood-style contracts. I just don't think that's going to happen. You're seeing so much of a loosening of that happening in the U.S. anyway. The direction of travel is more toward these looser deals with actors. I wish I could hire actors for five to seven years. Obviously any producer would want to. But I just accept that things are the way they are and we work with them. To the good side, they give us more freedom and flexibility. There are advantages.
What has the show meant for international television in the U.S., for PBS, for Carnival? How did it change the game?
I think it has changed the game in a lot of ways. It was a big game-changer for PBS, and I'm really proud we've helped make them such a destination for drama. Of course, through their Masterpiece label they've run drama for many years and have been supportive of British talent. Same thing in the U.K., it was transformative for ITV. And you're right, the fact that you can make a show that doesn't come out of a normal stable but could be this big of a hit in the United States is quite a game changer. And I think instantly people started thinking about things differently. It's very exciting that you can make a show that's set 100 years ago and be seen as revolutionary and change the model. These really are exciting times in television, that all bets are off. The old formulas have gone away and shows can be short episode runs, shows can have movie stars in them, shows can come from different countries. There's so much more creativity in television for that reason. It's a more complicated business model for Hollywood to react to, but it's a very exciting time.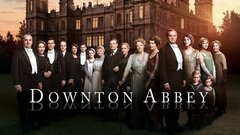 Powered by