Roush Review: 'Downton Abbey's Series Finale Is a Fond Farewell
Is it ever a spoiler to applaud a fairy tale for pulling off a happily-ever-after ending?
Surely you didn't expect Downton Abbey to go out on a downer. (Although this is the show that infamously killed off the dreamy Matthew Crawley on Christmas Day in the U.K. in 2012.) Any tears shed during the long-dreaded but sentimentally satisfying series finale will most likely be a reflection of our affection for the bounty of memorable characters we've come to love, below and above stairs, and whom we hate thinking will no longer be our winter TV companions.
"I hate goodbyes," says Tom Branson (Allen Leech), the former activist chauffeur turned widowed estate manager, in one of many self-referential moments. We do too, but our separation anxiety is considerably lessened when we know the show's creator—prolific Julian Fellowes—is in control of the endgame. (This is why I'm also at peace with CBS drawing a curtain on The Good Wife in May, with the show's creators ending that excellent series on their own terms after seven brilliant years.)
RELATED: Read Matt's Review of Downton's Season 6 Premiere Episode
There's a season's worth of game-changing twists in Downton's finale, as 1925 gives way to 1926 with great, if at times cloyingly contrived, fanfare, while Fellowes busily manipulates the destinies and romantic fortunes of his colorful ensemble. You'll see some things coming from a long distance, but that rarely dims the pleasure of watching beloved favorites get what they deserve. Even the redoubtable Dowager Countess Violet (peerless Maggie Smith) and eternal frenemy Isobel (Penelope Wilton) share a common purpose in their final escapade.
Does that mean there's hope for combative sisters Lady Mary (Michelle Dockery) and Lady Edith (Laura Carmichael) to learn to forgive and make up? I'll never tell.
Societal change looms largest, of course, for the Abbey's loyal but shrinking household staff, and Downton especially shines when poignantly considering their futures in an emerging new world of opportunity. But let's not rush matters. As one more good thing on TV comes to an end, with a chorus of "Auld Lang Syne" ringing out amid a cozy orgy of good cheer, we know these old acquaintances will not soon be forgotten.
Downton Abbey, Series finale, Sunday, March 6, 9/8c, PBS (check local listings at pbs.org)
---
Questions? Ask Critic Matt Roush!
TV critic (and occasional TV therapist) Matt Roush answers viewer questions and concerns in his Ask Matt column each week. Wondering about plots, characters and twists on your fave shows? Submit your query to Matt via the form below: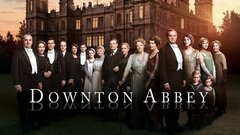 Powered by