Here's What a 'Downton Abbey' Movie Could Look Like on the Big Screen
Downton Abbey will close its doors seemingly forever, when the megahit ends its run on PBS on March 6. But the sun might not go down just yet on that iconic representation of the British empire. The Grantham family may yet return for a visit on the big screen.
We asked executive producer Gareth Neame about the status of a Downton spinoff or a movie. "There is the possibility of a Downton Abbey film," Neame told us. "We don't have a script yet or any firm plans, but it is certainly something that we've been talking about."
RELATED: Photos: Season 6 Scenes of Downton Abbey
If there's a movie, it won't be a prequel, Neame noted. "We're much more likely to find the characters at some point in the near future, on the same narrative journey as the TV show." That means loyal viewers can expect a batch of their favorite characters, Neame promises. "If you went right back and it was different characters, I'm not sure that would satisfy as much," he said.
As for what's coming up in the last season, which returns in January. Fans can expect lots of storylines to wrap up, some "real tear jerker episodes" and plenty of romance before the aristocrats bid cheerio. "It's a wonderful season and will be very rewarding for the fans," he promised.
Our tissues are at the ready.
Downton Abbey, Sunday, Jan. 3, 9/8c, PBS (check your local listings)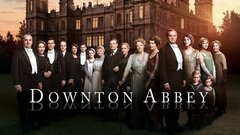 Powered by