DirecTV Comedy 'You Me Her's Threesome Is Less Than a Fantasy
DirecTV's new comedy You Me Her explores a blossoming three-way romance between married duo Jack and Emma (Greg Poehler and Rachel Blanchard, above) and escort Izzy (Priscilla Faia).
"It's an interesting subject matter, which I realized hadn't been explored," Poehler says. "I mean, there's no frame of reference for three-person relationships—at least not until Brad [Pitt] and Angelina [Jolie] decided to bring in a third; I'm down for this, by the way. It's fun to be on the forefront and examine whether such relationships are, in fact, possible."
RELATED: Keep Track of New and Returning Shows of 2016
While Jack may seem to be getting the better end of the deal, he's uneasy with the situation. "Traditionally, such relationships have negative connotations, with the man in the dominant role and the women often subservient and perhaps unhappy with the arrangement or having little say in the matter," Poehler points out. "Here, it's the women who are the most willing and the most consenting. Jack is the one who's the least at ease and most concerned with cultural norms. It certainly doesn't play out like every guy's fantasy."
For Poehler, who wrote and starred in NBC's Welcome to Sweden, You Me Her marks his first on-screen acting experience where he didn't have a hand in the writing. "For me, this was the biggest challenge—saying someone else's words," he admits. "It's funny, halfway through, I said to John, 'You know, this is hard for me. I've never said someone else's words before.' And he said, 'Oh, you mean ACTING?'"
"I was, like, 'Oh, that's what this is! Yes, I guess I've never acted before,'" he recalls. "Ultimately, it was fun to just concentrate on acting and not have to worry about all that other stuff."
Check out the exclusive photos of You Me Her here.
You Me Her, Series premiere, Tuesday, March 22, 9/8c, DirecTV Audience Network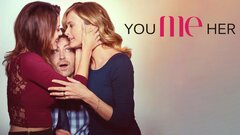 Powered by