Oscars 2016: Who Will Win vs. Who Should Win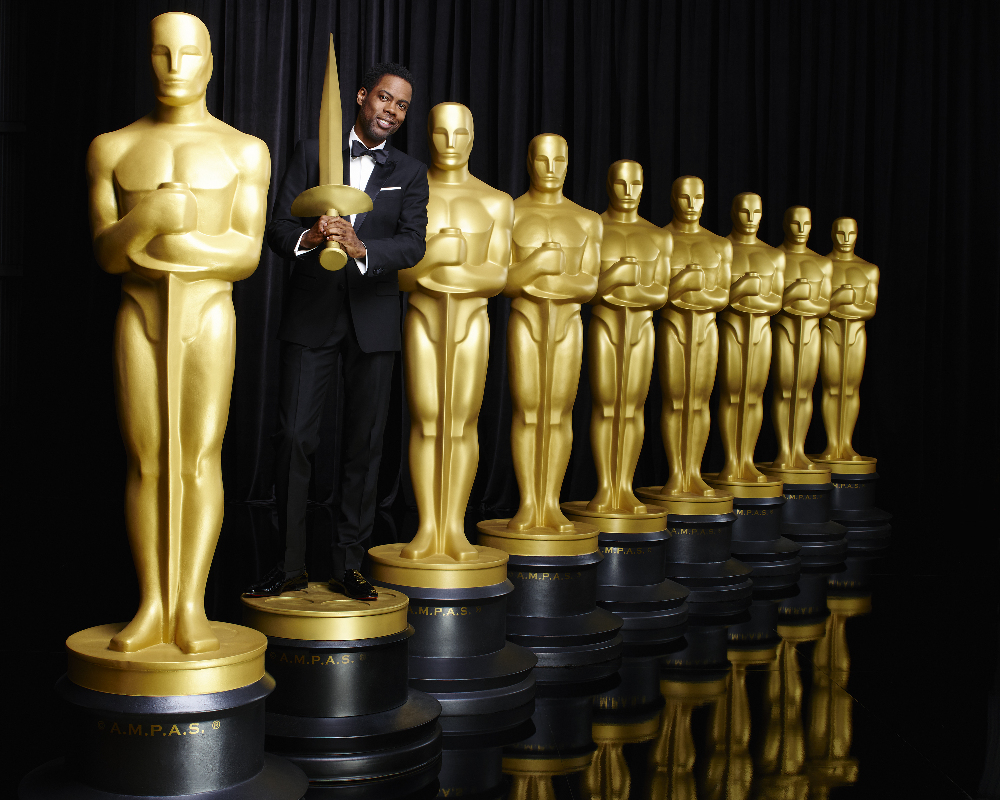 The loudest chatter going into the 88th Academy Awards is the deplorable lack of diversity among its nominees for the second straight year, particularly in the high-profile acting categories. The #OscarsSoWhite controversy threatens to swallow the ceremony whole, with Spike Lee, Will Smith and Jada Pinkett Smith all reportedly boycotting the broadcast. But host Chris Rock (above), back for his first time as the emcee since 2005, will no doubt do his best to put on an entertaining show, hopefully cracking wise about the lily-white hue of the awards and the industry as a whole. That said, there's other potential drama on tap, with this year's Best Picture race one the most competitive and difficult-to-call in years. To help you fill out your Oscar ballots, we break down the top contenders in 10 major categories.
Best Picture | Best Director | Best Actor | Best Actress
Best Supporting Actor | Best Supporting Actress | Best Original Screenplay
Best Adapted Screenplay | Best Animated Feature | Best Cinematography
Best Picture
Will Win:The Revenant
Should Win:Spotlight
Also Nominated:The Big Short, Mad Max: Fury Road, The Martian, Room, Brooklyn, Bridge of Spies
This will likely come down to a three-way photo finish between The Big Short, the formally audacious film about the shenanigans that led to 2008 financial crisis; Spotlight, the riveting chronicle of the Boston Globe's exposé of sexual abuse by Catholic Church clergy and its systematic cover-up; and the cinematically breathtaking The Revenant, an epic revenge story set on the American. Spotlight won the SAG Award for best ensemble, The Big Short captured the oft-predictive Producers Guild of America's top prize, and The Revenant pocketed the BAFTA and the Golden Globe for Best Picture-Drama. Short is gathering steam and may ride the Bernie Sanders-fueled anti-Wall Street sentiment. The best newsroom drama since All the President's Men, Spotlight feels like the kind of high-minded film that the Academy loves to recognize, with underdog characters questioning powerful institutions and giving voice to the powerless. But will the well-documented behind-the-scenes stamina required to make The Revenant—not to mention its 12 overall nominations—push it over the top?
Best Director
Who Will Win: Alejandro Gonzalez Iñarritu, The Revenant
Who Should Win: George Miller, Mad Max: Fury Road
Also Nominated: Tom McCarthy, Spotlight; Adam McKay, The Big Short; Lenny Abrahamson, Room
Iñarritu, who pocketed this prize last year for Birdman, is the odds-on favorite thanks to nabbing the Directors Guild of America trophy earlier this month. The Mexican-born filmmaker would be a rare back-to-back winner of the directing prize. (Only two other directors, John Ford and Joseph L. Mankiewicz, have achieved this.) If voters want to mix it up, they could reward George Miller for his visionary update of Mad Max and the nearly two decades of persistence it took to get it made. And sure, 78-year-old Martian director Ridley Scott was egregiously overlooked, but when is the Academy going to finally recognize the great indie auteur Todd Haynes? His heartbreaking lesbian romance Carol, based on a 1952 Patricia Highsmith novel, is a coruscating study in restraint. The film's indelible final shot was as memorable as any movie's in 2015.

Best Actor in a Leading Role
Will Win/Should Win: Leonardo DiCaprio, The Revenant
Also Nominated: Michael Fassbender, Steve Jobs; Eddie Redmayne, The Danish Girl; Matt Damon, The Martian; Bryan Cranston, Trumbo
It's Leo's turn. And could anyone begrudge the 41-year-old actor at this point? Sure, this is a case of an Oscar make-nice after years of DiCaprio losing the award or getting snubbed altogether. He's been nominated five times as an actor and should have won for his more multi-layered work—the manic, drug-addled, money-hungry Jordan Belfort in The Wolf of Wall Street foremost among them. Sure, DiCaprio grunts and moans his way through The Revenant as frontier tracker Hugh Glass, and speaks only a few lines; he'd essentially be winning for a feat of great endurance under strenuous conditions. Still, his heartbreaking turn in a scene where he discovers his son dead in the snow rips the heart out—if that terrifying mama bear didn't attempt to do so first.
PHOTOS: 16 Oscar Nominees Who Made Their Mark on Television
Best Actress in a Leading Role
Will Win/Should Win: Brie Larson, Room
Also Nominated: Charlotte Rampling, 45 Years; Cate Blanchett, Carol; Jennifer Lawrence, Joy; Saoirse Ronan, Brooklyn
Only DiCaprio's triumph is more of a sure thing than the 26-year-old Larson taking an Oscar home for Room. Following up a soulful turn in the 2013 indie Short Term 12 and an assured assist as Amy Schumer's sister in Trainwreck, Larson is harrowing as a captive woman raising her son in the confines of a backyard shed. Seventy-year-old British cinema icon Rampling (The Night Porter, The Verdict) delivers a quietly shattering performance as a woman whose marriage is threatened by long-buried secrets in 45 Years, but some unfortunate remarks in the wake of the #OscarsSoWhite controversy recently dulled her chances. No matter, Larson's It Girl status has this one all sewn up.
Best Supporting Actor
Will Win: Sylvester Stallone, Creed
Should Win: Mark Ruffalo, Spotlight
Also Nominated: Mark Rylance, Bridge of Spies; Tom Hardy, The Revenant; Christian Bale, The Big Short
Stallone is the heavy sentimental favorite for his big-screen return as a fading Rocky Balboa in Creed, the inspired reboot of a previously tired franchise. Sly lost the 1976 Oscar for playing Rocky the first time around, and while a sentimental comeback story didn't help Michael Keaton last year for Birdman, he seems primed climb those victory steps. The brilliant Rylance, who already has three Tony Awards on his shelf, gives the most layered turn of the bunch as Soviet spy Rudolf Abel. And you could argue that the soulful Ruffalo deserves the award as an emblem for the powerful ensemble in Spotlight.
Best Actress in a Supporting Role
Will Win: Alicia Vikander, The Danish Girl
Should Win: Rooney Mara, Carol
Also Nominated: Kate Winslet, Steve Jobs; Rachel McAdams, Spotlight; Jennifer Jason Leigh, The Hateful Eight
Mara's bohemian photographer in Carol is actually a lead part relegated to the supporting category in order to gain a better chance at victory. And that strategy seemed to be working as Mara, vulnerable yet strong-willed as the doe-eyed Therese, was the presumed frontrunner in this race before the nominations were even announced. However, it now appears the prize is international upstart Vikander's to lose. Though watch out for Winslet, a previous winner and seven-time nominee, gaining steam for her dazzling, motormouthed turn in Steve Jobs. Still, I'd expect Vikander, coming off a great year which also included the sci-fi thriller Ex Machina, to take home the little gold guy.
Best Original Screenplay
Will Win/Should Win: Tom McCarthy and Josh Singer, Spotlight
Also Nominated: Matt Charman and Joel and Ethan Cohen, Bridge of Spies; Jonathan Herman, Andrea Berloff, S. Leigh Savidge, and Alan Wenkus, Straight Outta Compton; Pete Docter, Meg
LeFauve, and Josh Cooley, Inside Out; Alex Garland, Ex Machina
McCarthy and Singer's work has already nabbed the WGA award for original screenplay and is the slam-dunk frontrunner in this category, deftly condensing stacks of information and often a literal paper trail into a coherent, emotionally moving narrative that's also an edge-of-your-seat thriller, despite the outcome being well-known to many viewers.
Best Adapted Screenplay
Will Win: Adam McKay and Charles Randolph, The Big Short
Should Win: Phyllis Nagy, Carol
Also Nominated: Drew Goddard, The Martian; Nick Hornby, Brooklyn; Emma Donoghue, Room
McKay and Randolph will likely win for their spry adaptation of Michael Lewis's book about the 2008 economic meltdown. They managed to take seemingly dry and complex data about high finance and turn it into a wildly entertaining story where you find yourself rooting for the bad guys…until you don't, and then fury takes over. On the other hand, Nagy spent nearly two decades trying to bring Highsmith's novel The Price of Salt to the screen, and she and Haynes radically altered the story so that we see the action not only from Therese's point-of-view, but Carol's as well, upping the heat factor.
Best Animated Feature
Will Win/Should Win:Inside Out
Also Nominated:Anomalisa, Shaun the Sheep Movie, Boy and the World, When Marnie Was Here
Pixar's inventive Inside Out, which explored the inner-workings of an 11-year-old girl's mind with surprising depth, humor, and emotion, is the clear favorite to scamper off with this prize. Critics went gaga over the stop-motion Anomalisa, the latest mind-bender from misanthropic genius Charlie Kaufman (Eternal Sunshine of the Spotless Mind, Being John Malkovich), but the film left others cold. Inside Out appeals to both the heart and the head, but a question remains: why didn't the film also get a best picture nod?
RELATED: 20 Oscar-Nominated Movies You Can Watch On Demand
Best Cinematography
Will Win: Emmanuel Lubezki, The Revenant
Should Win: Edward Lachman, Carol or Roger Deakins, Sicario
Also Nominated: John Seale, Mad Max: Fury Road; Robert Richardson, The Hateful Eight
A win by Lubezki ("Chivo") for The Revenant would give the Mexican-American cinematographer an unprecedented third consecutive Oscar in this category, following Gravity in 2014 and Birdman just last year. A three-peat has only happened a few times in Academy Awards history in any category. Lubezki's achievement is a technical marvel, shot only in natural light and using incredibly long tracking shots that last for minutes on end. Meanwhile, the legendary Deakins (No Country For Old Men) is the Susan Lucci of this category, having been nominated 13 times with no wins, and could pull the long overdue upset. Lachman, whose muted, granular photography on Carol beautifully captured the emotional state of its characters, is also deserving.
The Oscars, Sunday, Feb. 28, 7/6c, ABC