9 Things We Want to See on 'Bones' Before It Ends
Fox's Bones is now officially moving toward the finish line: the series has been renewed for a 12th and (short) final season.
Although the final year will only be 12 episodes, fans still haven't seen 24 installments, thanks to the dozen Season 11 episodes that haven't aired.
Few shows get the kind of notice Bones has about its ending, and the writers have now been tasked to conclude Season 11 with the knowledge that it's the final journey for Brennan (Emily Deschanel), Booth (David Boreanaz), Angela (Michaela Conlin), Hodgins (TJ Thyne), Cam (Tamara Taylor), Aubry (John Boyd), and the Jeffersonian squinterns.
So what's in store for the characters? Well, that's to be determined. But in the meantime, here are a few things we hope to see happen (and a couple we hope won't) in the final episodes.
The format won't change too much. The 12th season is the shortest batch of episodes the show has ever produced. While there could be temptation for a total format shakeup, here's hoping the writers stick with what's worked for 11 seasons.
Emily Deschanel finally gets to direct an episode. Back in 2010 (AKA Season 6!), Deschanel was set to direct her first hour of Bones. However, her real-life pregnancy postponed her Bones directorial debut, and the pieces still haven't come into place. Boreanaz has proven to be a fantastic director (and we imagine he'll direct a handful of hours in this final batch), so here's hoping Deschanel finally gets her chance behind the camera as well.
The Booth and Brennan drama will be handled respectfully. Married life isn't always simple, so it would make sense if Booth and Brennan aren't happy one hundred percent of the time. But with a limited amount of time remaining, here's hoping any shakeups aren't so drastic that resolutions feel rushed.
Hodgins will still be in his wheelchair. The King of the Lab deserves only good things, and asking for him to remain paralyzed almost feels cruel. However, the series has existed in the real world; unless we've been misled about the extent of his injury, magically fixing his spinal injury will feel like a cheat.
At least one more "out the box" episode. Bones has taken some big swings with episodes that break from the norm: a coma dream, a noir episode, an hour told from the perspective of the corpse. (To name a few.) Though some worked better than others, there's no denying the ambition was impressive. Hopefully, viewers will have at least one episode with an unexpected structure before the series wraps up.
All the squinterns will be together for another case. Speaking of doing things slightly outside the norm, one of the unexpected delights has been the squintern dynamic in the rare occasions they get to cross paths. So here's to a case that requires as much help as possible.
No more serial killer storylines. The series will introduce its newest serial killer in this season's 13th episode. If the writers opted to wrap up the storyline this year (due to the show's uncertain fate), why not have Season 12 be sans serial killer?
Invite back a few fan favorites from past seasons. The series has introduced an extraordinary amount of characters over the show's 11 seasons, so bringing back a few familiar faces would be delightful. Certainly what's left of Booth and Brennan's extended families can return in some capacity. (The biggest question mark is Loren Dean, who portrayed Brennan's brother, Russ. He hasn't acted in a television series since 2011.)
Original series regulars Zack (Eric Millegan) and Goodman (Jonathan Adams) would be fantastic to check in with again, too. Booth's former therapist Gordon Wyatt (Stephen Fry) was also delightful, and it would be lovely to have him pop in for an episode. Cam's daughter, Michelle (Tiffany Hines), hasn't been seen in a while, either. And there's any number of crime fighters (Kim Raver's Agent Miller, Tina Majorino's Agent Shaw, Betty White's Dr. Mayer, David Alan Grier's Professor Bunsen Jude) who would be welcome for a revisit.
Bring back a few behind-the-scenes faces to contribute. Bones has bid farewell to a good number of vital production people over the years. But barring commitments to other projects, it would be great to see series creator Hart Hanson, plus former executive producers Stephen Nathan and Carla Kettner, contribute something to the last season for a final send-off.

Bones returns Thursday, April 14 at 8/7c on Fox.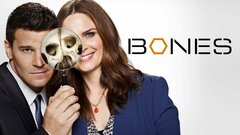 Bones
where to stream
Powered by