'Bones' Renewed for 12th and Final Season
Bones will return for a 12th and final season, Fox confirmed. The final season will be 12 episodes.
Series stars David Boreanaz (Booth) and Emily Deschanel (Brennan), who are currently in a midst of a lawsuit with Fox, will also return for the show's swan song.
"In times like these, marked by instability and doubt, it's comforting to know the world can count on at least one dependable beacon of stability. Apparently, that beacon is Bones," said creator and executive producer Hart Hanson in a statement. "It just shows what you can do with an amalgam of genius cast, amazing crew, cunning writers, stalwart studio, sweat, a tough economy, a mercurial network, determination, luck, magic, miracles and the most loyal audience in the world."
RELATED: How an X-Files Episode Inspired the Latest Bones Serial Killer Story
"This is for the fans! Thank you to everyone at Fox and, of course, Dana and Gary—for all your support," said Boreanaz. "Thank you to Hart, Stephen, Ian [Toynton], Michael and Jonathan. Also to the crew and cast for their countless support along the way! And I couldn't have done it without you, Emily!"
"I am thrilled the show will have the ending it deserves for all of our amazing, loyal fans!" added Deschanel.
As sad as it is to know something you have loved doing for 11 years will be ending, I am so glad we will have the opportunity to end it well

— Emily Deschanel (@emilydeschanel) February 25, 2016
"We couldn't be more thrilled to have another season, so we can give the show, characters and fans the end they so richly deserve," said showrunners Jonathan Collier and Michael Peterson. "Also knowing there is a Season 12, we can now write the most rewarding Season 11 finale possible—one we hope will leave our fans excited for what's to come in this final season of Bones."
"Bones has been part of the fabric of our network and studio for over a decade, and during that time it has attracted one of the most devoted fan bases we've ever seen. So it was extremely important to us and to Hart, the producers and the cast, that we send the show off in a way that gives those loyal fans a meaningful and satisfying conclusion," said Walden and Newman. "We'd like to thank Emily and David for anchoring this extraordinary group of talented people, as well as Hart, Stephen Nathan, Barry Josephson and this season's showrunners, Michael Peterson and Jonathan Collier, for delivering such an incredible series season after season."
Previously, Collier and Peterson told TVInsider that they didn't think a shortened final season was in store for the show.
"It's always been a 22 episode show, except for the year of the writers' strike, and I don't see why it would be any other way," Peterson said in January. "That's where the show lives, and that's where we'd like it to keep living."
But they were (correctly) optimistic the show would return with Boreanaz and Deschanel. "I think they want to keep on doing the show," Collier said at the time. "They've both expressed to us that they really enjoyed this season. They've grown up on this show…Obviously there are other considerations that come up with people's careers, family, or professional opportunities. But they've been delightful, wonderful partners."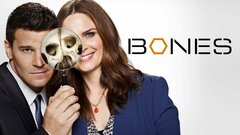 Bones
where to stream
Powered by