Leona Lewis Talks Her First TV Role on 'The Oath' & If You'll See Her Sing on the Show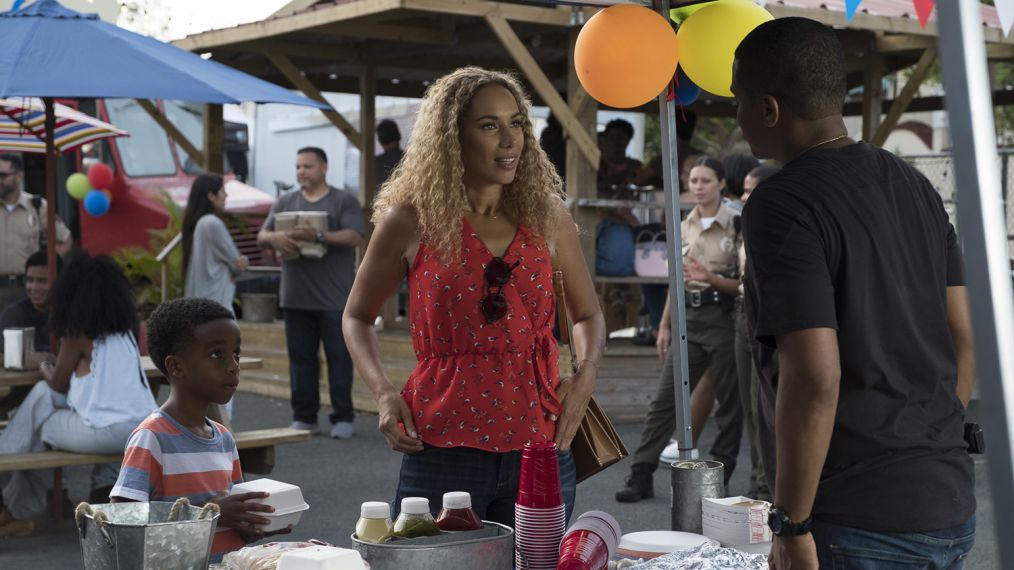 Former The X Factor winner Leona Lewis is adding acting to her list of talents. Lewis will take on her first major television role in Season 2 of Sony Crackle's The Oath.
Lewis' character, Amber Hall, grew up in a violent neighborhood, and is now a doctor at a local hospital who will do whatever she can for the people in her community.
See Also
The actor describes his morally ambiguous cop character as a 'human coiled spring.'
The three-time Grammy nominee talked with TV Insider about her new role and working with Curtis "50 Cent" Jackson and Christina Milian.
This is only really your second big acting role. Was pursuing something outside of music something you've wanted to do for a while?
Leona Lewis: Yeah. I did performing arts growing up as a kid. I did some acting as well as music and dance, so I've always been into all three of the arts. I got the opportunity to do an independent movie musical and then I played Grizabella [in Cats] on Broadway, and then The Oath. It's definitely something I've always been interested in. And the more I've done it, the more I've really enjoyed it and wanted to go a bit deeper into it.
Watch an exclusive sneak peek:
Since The Oath is in its second season, what was it like joining a cast who has already been working together? Did you feel any pressure?
[Yes] coming in because everyone knows each other. I was like, 'Oh God, I'm going to be like the new kid at school', and when I got on the set, literally everyone went above and beyond to make me feel welcome and to really just have me as part of the team. So those kind of first-day jitters kind of went away as soon as I got on set.
50 Cent is the executive producer of the show. Have you two worked together before in the music industry?
I've not worked with him before, but obviously he's a huge supporter of the show and everything that he touches just becomes so successful, so it's great having him involved. I haven't had one-on-one time with him yet because my part was on-and-off and every time I would be off set, he would be on. So I didn't get to meet him, but I'm sure I'll be meeting him. We've got a gathering in the next week or so.
What can we tease about your character Amber Hall? Given your talents, will we see her do any singing on the show?
She's definitely not a singer. She's a doctor and her father is a preacher and both of them are the pinnacle of their community. They are doing a lot of work with the community, so they're very important in that sense.
Both you and Christina Milian are new on the show and come from a music background. Did you know one another before? Did you connect over this?
I have met Christina before, but this was the first time that we really connected. She's got a lot more experience than me, she's been a working actress for a while now and when you're kind of doing both music and acting – I'm just very inspired by her. She's a very hard worker, she's such a genuine soul, and it's lovely getting to work with such strong females as well. This season they introduced three really strong female characters, so there's a lot of female empowerment in this series, which I really love.
What are you hoping viewers will get out of Season 2?
I think that season 1 was just so much adrenaline, it was fast paced, there was so much action, and I feel like this season they're going to get that, but they're going to get a whole other layer of stories and the family motif. People are really tested, their morals are really tested, so it leaves you on the edge of your seat a lot. And it has a lot of heart as well, and I feel like they just upped the ante in season 2.
See Also
The star also talks about what's next, directing, and why he thinks Tasha and Tariq betrayed [SPOILER].
After this, what's next for you? Do you see more acting in your future?
Yes, I definitely do. It's something I really enjoy, and music is my passion and my love and I'll definitely be having more music this year. Some exciting things coming up for the end of the year, too. Both of them go hand in hand. Definitely make sure you check out Season 2. The good thing is, since it's online, even if you haven't watched season 1 yet, you can go watch it on Sony Crackle, and then you can start Season 2. It's good for a big binge watch.
The Oath, Season 2 Premiere, Thursday, February 21, Sony Crackle