'Power' Star and Executive Producer 50 Cent Explains That Surprising Death & What's Next
[Warning: The below contains MAJOR spoilers from the latest episode of Power, "A Friend of the Family."]
No character is safe!
On Sunday night's episode of Power, fans said goodbye to a major character: Curtis "50 Cent" Jackson's Kanan Stark. He was set up by Tasha (Naturi Naughton) and Tariq (Michael Rainey Jr.), who planted the gun used to kill Ray Ray in his truck.
When cops pulled them over — Tasha reported Tariq missing — they found the gun and then a scuffle with police ensued resulting in Kanan shooting multiple officers, but not before they shot Kanan twice.
See Also
'The worst has already happened to her, and her fearlessness is making her fierce,' Naughton says of Tasha.
To flee the scene, Kanan stole a cop car but was bleeding badly from his wounds and coughing up blood. He didn't have much time and ended up crashing the car, dying soon after. And yes, he's for sure dead. Tommy (Joseph Sikora) and Ghost (Omari Hardwick) went to the morgue to identify Kanan's body.
"Rest in peace, you tough bastard," Tommy said.
In a conference call with reporters after the shocking finale, 50 Cent spoke about how he knew this day was coming, his new role on the show as director, and why he thinks Tasha and Tariq betrayed him.
Why kill off Kanan now?
Curtis "50 Cent" Jackson: The decision was made early on when Courtney and I discussed how the arc of Kanan's story would end. We slated the show to go seven seasons initially, because we created it with the success of The Sopranos in mind.
How does Kanan's death affect the rest of the season?
It ramps up everything. The pace of the next two shows is a lot more because everyone responds to the betrayal of Kanan and his death leaves a big gap with Tommy (Jospeh Sikora) and Ghost where they don't trust each other. Everybody is looking at everybody sideways, nobody trusts anyone.
It also changes Tariq and Tasha in different perspectives as everything starts to spin out of control.
Why did Tariq listen to Tasha?
It was his mother but he's making a decision to be bad on his own. [Tariq] was the last person [Kanan] expected to betray him — it's a complete shock. This is the realest thing that's happened in this show.
Is your involvement with the show changing after your character's death?
It provides me with the ability to direct 603. I've traveled to the writers' room since they been in there working on next season and developing 603. It allows me to stay involved as an executive producer and expand on the other projects I have on the network.
Could we see Kanan in flashbacks?
You may see that. You may see nightmares for Tariq's character. With the relationship between the two of them, when you do something like that, it doesn't just go away. That's a traumatic experience for him too.
Power, Sundays, 9/8c, Starz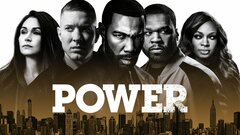 Power
where to stream
Powered by