'Mom': Anna Faris on the Consequences of Christy's Difficult Decision
Mom's latest on-screen casualty has caused off-screen grief.
"I felt devastated," Mom star Anna Faris (Christy) admits of discovering that her character's friend, Jodi (Emily Osment), would fatally overdose in last Thursday's episode. "It also surprised me… Selfishly, I love Emily Osment, so I was like, 'Oh, no, I just want more of you.' But I understand that our story with Mom strives to be really large, thematically. I love that [twist], because of it. I had a whole lot of emotions."
The CBS comedy has never shied away from the serious topics—last season, Christy's father/Bonnie's (Allison Janney) boyfriend, Alvin (Kevin Pollak) died of a heart attack; Christy's daughter, Violet (Sadie Calvano), became pregnant in Season 1 and opted to give the baby away; and, the show has also tackled cancer and addiction relapses—a fact Faris appreciates.
"I love that we tell these stories," she gushes. "After we shoot a show on Friday night, we get a script for the following week and we literally have no idea of what the story will be. I feel really fortunate that we get to tell these incredibly important stories in a half-hour comedy. I feel lucky as an actor."
But things won't be any easier for Christy in the foreseeable future as she navigates her grief over the loss of Jodi—and her guilt for not taking Jodi's final phone call.
"Christy overestimated her ability as a sponsor to Jodi, and also underestimated [Jodi's] vulnerability to relapse," Faris acknowledges. "Which is very valid, because my character hasn't necessarily been sober all that long."
"I think there's guilt, and as a [real-life] mom, I just feel a ton of guilt in general; that is not a hard emotion to tap into," Faris laughs. "I think she had so much guilt about not being sober for a lot of her own kids' lives, and then sort of feeling like a failure for Jodi weighs so heavily on her. As an actor, I love getting to explore things I hadn't been able to do before. It feels like a total relief. I love that [Mom executive producer] Chuck [Lorre] trusts me; that he believes that I can go to those places, because I didn't really have a lot of that experience in Hollywood."
Adding to Christy's trauma is the fallout from her decision to keep the news of Jodi's death from the just-married Marjorie (Mimi Kennedy), to allow the newlywed to enjoy her wedding reception and honeymoon. In Thursday's episode, "Sticky Hands and a Walk on the Wild Side," Marjorie has returned from her trip, angry that she's only just learned about the overdose.
"I think this is the first time Marjorie is really furious with Christy," Faris says, praising the "brilliant" Kennedy, whom she counts as a close friend off-screen as well. "In the past, [Marjorie] had been pretty kind to her and patient and understanding, so this is a moment where she gets to—rightfully so—feel betrayed."
"I still don't know if my character made the right call," Faris continues. "But I love that we address that. I don't know, to this day, what the right call would have been. I love that there's this ambiguous struggle in the face of this kind of tragedy, when it's somebody's incredibly joyous moment. But I'm glad we address that in Thursday night's show, as she's furious with me. That's the first time she's done that with me, and she's my sponsor, and I feel like I've failed her."
Though this particular ep deals with serious topics, the episode also manages to be funny: to outrun their grief, Christy, Bonnie, Jill (Jaime Pressly) and Wendy (Beth Hall) go to Canada in an attempt to smuggle syrup across the border. "I'm just grateful that we get to have these quiet moments of somberness and tragedy, and then we get to have these loud, big moments of ridiculous comedy and pain," Faris says. "It's just truly a tribute to Chuck Lorre and our writers who continue to challenge me. It's what I love about our show: we're constantly dealing with what is right, what is wrong, and who are we to judge? I love that we're always walking the line of really flawed people who are trying to do good, but don't quite know how."
Mom airs Thursdays at 9/8c on CBS.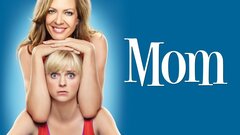 Mom
where to stream
Powered by