'Arrow's Stephen Amell Opens Up About Oliver's Secret and His Favorite Episode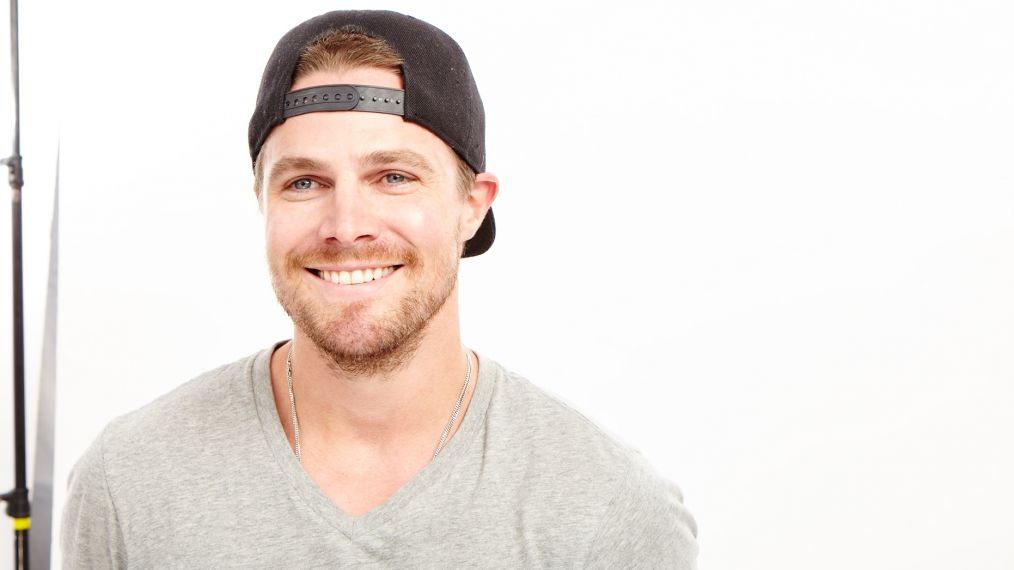 It is a damn good time to be Stephen Amell. Arrow has helped spawn not just The Flash but also DC's Legends of Tomorrow (which he's guest-starring on this week), he's heading toward the big screen in this summer's Teenage Mutant Ninja Turtles sequel. On his main gig, his Oliver Queen is knee-deep in both a battle against evil and his own conscience as he faces the music for lying about his secret child, William, from fiancée Felicity (Emily Bett Rickards). That is an epic amount to have on one's plate, yet he remains grounded and grateful for work, its inherent challenges and the payoff to playing one of TV's top superheroes. Here, in the first half of our two-part chat, Amell opens up about this week's pivotal episode, what he has learned from his friends at Supernatural and what fans can expect once Oliver comes clean with his bride-to-be.
EXCLUSIVE VIDEO: See Oliver Support Felicity in Physical Therapy
You have been quite the busy man lately. Filming Teenage Mutant Ninja Turtles 2 last summer, going right into the new season of Arrow, the WWE thing, crossover episodes…I'm expecting to hear that you're going to direct an episode soon.
You know, they asked me if I wanted to direct an episode, sort of informally but [executive producer] Greg Berlanti asked me if I wanted to direct one either this year or next year. It's a conversation that we had a while ago, but I passed.
Really?
It's too much. I asked a few people that [had done it before]. My closest corollary would be that Tom Welling directed a bunch of episodes of Smallville and I wanted to better understand what went into directing an episode. And it's not so much the logistical difficulty of directing an episode while you're shooting it, it's the logistical difficulty of being involved in the prep and the post.
When you're working on other episodes.
Yeah, and I'm too invested to just sort of hand that off to other people. If I were going to direct an episode, I'd want to do it properly. It sounds like Tom did an amazing job of that and I know that Jensen [Ackles] and Mischa [Collins] over on Supernatural do great jobs with it, but I'm more of the Jared Padalecki school of, 'You know what, I got a lot of work to do, I'm going to focus on just doing that work.' And quite honestly, we have an interesting emerging stable of directors on Arrow that I would rather see get more opportunities.
Like your stunt coordinator James Bamford, who did such a great job last week?
Yeah, like Bamford. And we had Lexi Alexander come on board this year. We had [Everwood alum] Greg Smith directing this week's episode and he actually directed episode 3.15 [Season 3's "Nanda Parbat"]. He's also directing an episode later this season and to me, I get incredibly excited when Greg is on set because Greg is pure of mind and so interested in directing…he has an excellent way of delegating, which I find a very important lesson to learn for a variety of reasons, not just as they pertain to television. Yeah look, these people are going to do a way better job than I would ever do, so I'm going to leave it to them.
You have done some wonderful dramatic work this season. Having to keep the secret from Felicity, last week's "you're terrific" moment with Curtis (Echo Kellum). It's just been so nice to see the balance of Oliver being a little further away from the tortured action hero with these great emotional levels.
Thank you, I appreciate that. It's a very interesting thing to play a character for so long—I know that Season 4 of a television show is certainly not uncharted territory by any means—but that being said, it's a matter of the amount of time you get on set and the amount of reps you get as an actor…you really don't have a choice but to hopefully become better. So if some of that is shining through this season, then I'm happy.
And it seems like this week's episode is kind of a combination of all of that stuff because you have Vixen (Megalyn E.K.) coming in to help with the Damien Darhk situation and you also have to deal with the secret child stuff.
I think, very personally and very selfishly, that this was my favorite episode. Not necessarily my favorite episode of the season but my favorite episode to work on. I've always known that this storyline with William [Jack Moore] and Samantha [Anna Hopkins], and to a larger extent the secret being kept from Felicity, has caused some angst among the fan base. People think that keeping this secret is a "regression for Oliver." Putting that aside for a second, it is my favorite storyline at the moment just in terms of something that is new and exciting. That's sort of what you look for when you're getting into episode 80-something on a show, you want the new and exciting stuff and Oliver Queen as a father is different. Also, I give a lot of credit to Anna Hopkins because we've seen her ever so briefly as Samantha but she's absolutely pivotal in this week's episode. That's a tough spot for a guest star to come into and she absolutely nails it.
Talking about the new and exciting stuff, we've seen Oliver save the city, we've seen Oliver save the team, but now has has to save his child. These are very high stakes.
Absolutely. And it's a dangerous spot for him because even with Thea [Willa Holland] or with Felicity or with his mother or Laurel, there's a way that Oliver, from his time on the island and in Hong Kong, has learned how to at the very least compartmentalize his emotions and focus on the task in front of him. But he's never had to deal with that when it comes to his own flesh and blood in terms of his son. So it's a dangerous spot for him cause he's teetering on the edge.
As a dad yourself, you have that added layer of knowing what that's like, that you'd do anything for your child.
Being a dad and being able to tap into those emotions I think create, hopefully, a real authenticity to this storyline and hopefully some good dramatic moments. I don't have to imagine the bond between father and child because I'm starting to understand it in real life.
So you mentioned Oliver keeping the secret from Felicity and the reactions online. The secret comes out this week, we saw that in the trailer. How do you think fans are going to feel at the end of this hour?
I feel like there is resolution to Oliver keeping his secret. Oliver and Felicity, not to overuse the word, have to compartmentalize [their feelings] to deal with the task that's in front of them. Once the situation comes to a close, for better or worse—no pun intended—they then deal with the consequences of Oliver keeping that secret. Whether that's a happy outcome or a sad outcome, there is a definitive outcome.
Can you believe that the show has come this far? From just you in a leather costume to Thea on a motorcycle jumping out trucks and Katie Cassidy as the Black Canary now?
It's nice, I'm very proud of the show and I'm proud of this season. Marc [Guggenheim, executive producer] and I have a great relationship and we talk a lot about certain challenges we face, but we always go back to the fact that we wouldn't necessarily face these challenges if we weren't on episode 87. That's a reality of television and 23-episodes-a-year TV: You face a lot of challenges, but I think we've done an excellent job of having characters mature and move forward while also trying new things. And the most important thing, something that I've been hammering this year and I think that we're going to see a lot in the latter part of this season, is let's not forget our roots. Let's not, in the interest of trying new things, forget what people loved about this show in the first place.
One of those things is obviously Oliver and Felicity. Have they started writing Oliver's vows?
Yeah, they have. I think that you actually relatively soon get a chance to hear them.
Oh fantastic!
There you go, there's your scoop. Right in the knick of time!
Come back tomorrow for Part 2 of our conversation about Amell's appearance on DC's Legends of Tomorrow.
Arrow airs Wednesdays, 8/7c on The CW.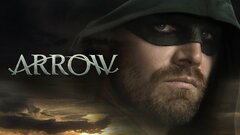 Arrow
where to stream