Eva Longoria on 'Telenovela's Crazy Finale and the Show's Chances for a Second Season
What's funnier than a hostage crisis? The NBC sitcom Telenovela—set behind-the-scenes at a sexy Spanish-language serial—will wrap its first season Monday, Feb. 22 (8:30/7:30c) with a madcap crime of passion involving Ana Sofia, the ditsy leading lady played by Eva Longoria, and her No. 1 fan. Longoria gave us the soap dish.
You've had a whole lotta crazy on Telenovela this year. How do you top it all for the season finale?
With the funniest, most well-written episode we've done yet. It's called "The Stalker," and I am so glad this one is our finale. In last week's episode, Ana's ex-husband Xavi [Jencarlos Canela] had a new girlfriend named Kelly [Fiona Gubelmann], who is absolutely perfect. She's a licensed pilot, a world-class samba dancer, a pediatric nurse. You name it, she does it. But in the finale you find out she's not so perfect after all. In fact, Kelly is only been pretending to be in love with Xavi. She's actually obsessed with Ana Sofia. She wants to be Ana Sofia. At first, my character is excited because she finally has a stalker! But then Kelly holds Ana and Xavi hostage and things get serious. [Laughs] Well, seriously funny, of course.
RELATED: Where You'll See Jencarlos Canela Next: Fox's The Passion
We also get a preview of Ana Sofia's next telenovela.
Yes! Our costume designer Janie Bryant is so excited. The format of our show allows us to keep changing the series within the series and we were trying to think of something that would create the most hilarious possibilities—not just funny stories but also funny costumes, hair and makeup. So what better than a telenovela about cowboy doctors? Cowboy hats, horses, guns, stethoscopes. It's perfect!
Do you have a pickup for a second season?
Not yet. But we're hoping. NBC has been super happy with the ratings and the critical acclaim. They were blown away by all our great reviews. And they've been 100 percent supportive from, "Let's shoot more promos!" to "Hey, let's name Monday Queens of Comedy Night!" They've had great social media ideas and are always thinking about how to help the show. It's a great vote of confidence.
Telenovela could be a much wilder, bawdier comedy if it was on cable. Do you wish you had more freedom?
Not at all. I love our home. Historically, NBC has been known for its great comedies and then they had a dry spell. Because of that, they were fully willing to let us take the reins and create. It's the same dynamic that ABC had when it launched Desperate Housewives. That show was a weird hybrid of dark comedy and soap opera. They were, like, "What is this?" But they had nothing to lose, so why not take a big swing? We found that same willingness to take a chance, to go for broke, at NBC, and it has made all the difference in the world.
Should Telenovela and Superstore continue to be paired in the same hour?
America Ferrera and I love being together. We are extremely proud of the fact that we are two Latina women leading the comedy charge on Monday nights. It really speaks to how the landscape of television is changing. So, yeah, we want to stick together. We're a good team.
If the show does return, what will you do differently? Or do you feel you've nailed it?
I think our latter episodes in the season had the right formula, the right balance. But I do want to introduce stronger B stories featuring the other characters. In Season 1 we were heavily dependent on Ana Sofia but I want to branch out and get into the personal lives of her friends and coworkers, learn more about their histories, follow them home. My greatest thrill is that every actor on the show has really taken off with the audience. We do live tweeting every Monday and for the first couple of episodes all the questions were for me. "Eva, what do you think about this?" "How do you feel about that?" By the third episode, everybody was getting great questions and wonderful comments. Everybody! I am surrounded by a company of fantastic comedic actors and the audience loves them. As one of the producers of this show, that is the greatest compliment.
Telenovela, Season finale, Monday, Feb. 22, 8:30/7:30c, NBC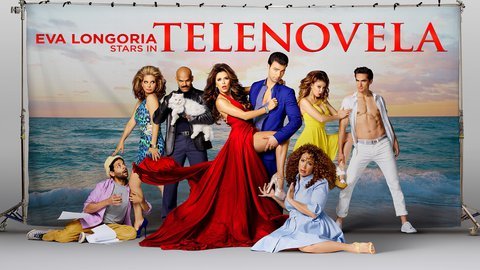 Powered by