'Telenovela': Eva Longoria's New Comedy Soaps It Up With 'Love, Sex and Friendship'
Who knew there was this much hot-pink chiffon on the planet? Eva Longoria arrives on the set of her new NBC sitcom, Telenovela, looking like a diaphanous Greek goddess who just collided with a vat of Pepto-Bismol. She's donned the eye-popping, over-the-top getup for a scene in which her character, steamy soap star Ana Sofia, is portraying a lawyer named Pasión who must jump from an airplane that's about to explode. And it's all done with lots of cleavage and a generous serving of thigh.
This spoof on Spanish-language serials—which previewed last month and gets its official premiere January 4—marks Longoria's first series role since Desperate Housewives (2004–12). But she's not just the star. She worked for years developing Telenovela and serves as its very hands-on executive producer.
RELATED: More New Shows Premiering in Winter
"I wanted to do a big, loud workplace comedy with the same themes that made Housewives so successful—love and sex but, most of all, friendship," Longoria says during a break on set. "I also wanted to go somewhere new. We had Tootsie. We had Soapdish. But we've never gone behind the scenes at a Spanish soap." The actress kicks off her shoes, thrusts both feet up on a coffee table, widens her knees and, in one fell swoop, tucks that massive pink dress between her legs. Yes, Longoria is actually manspreading. Then she reaches up into her massive coif, pulls out two pesky hairpieces and tosses them aside. Now she can relax.
"I grew up on telenovelas," Longoria continues. "Everyone is ridiculously beautiful and the plots are so melodramatic. The stories couldn't be more predictable—boy meets girl, boy loses girl—but the Latino audience takes them very seriously. Don't call your grandmother when her telenovela is on!" That said, Longoria insists her show is "not a Latino comedy." Set at a Telemundo-like network in Miami run by a nebbishy white guy (Zachary Levi of Heroes Reborn), the series is surprisingly light on Hispanic culture. In fact, Ana Sofia comes from Wisconsin and doesn't speak Spanish at all, so she must be fed her lines through an earpiece.
RELATED: Eva Longoria Goes Back to the Suds in Telenovela
Will this offend the Latino audience? Don't bet on it. "We brought Latino focus groups in to test the pilot and they loved that about Ana Sofia," Longoria notes. The reaction mirrors a recent Pew Research study that says one-third of U.S. Latino families will speak only English by the year 2020. "I don't speak Spanish, either," admits Longoria, who was born to a Mexican-American family in Texas. "It's entirely possible not to know the language yet still feel great ties to the culture," she says. "We're here to show that Latinos are not some monolith. We are not all the same."
Nor are all TV bosses like Longoria. "Most casts first come together at a table read, but we all met when Eva threw us a party at her place," says Izzy Diaz, who plays Isaac, the boozy head writer of Ana Sofia's show, Las Leyes de Pasión. "For hours we played board games and ate, drank, laughed and cussed. From jump, she made sure we were all on the same page."
She also gave a much-needed break to some old pals, including Prison Break vet Amaury Nolasco, known for his many menacing roles. "Eva knew I was having trouble breaking out of the bad-guy mold and that I'd always wanted to be the Hugh Grant rom-com guy," says Nolasco, who was cast as Rodrigo Suarez, an actor stuck in villain parts who is, in reality, supersensitive and sweet as a cupcake. Plus, he gets a hot romance with Ana Sofia's sassy costumer, Mimi Moncada (Diana Maria Riva).
Also grateful is actress Alex Meneses, who plays bitchy, cobra-haired Isabela Santamaria, the reigning star at the network until Ana Sofia showed up. Now Isabela is playing mamacita roles and desperately trying to hang on to her youth. "I can relate," says Meneses, who scored early successes on Friends, as Joey's sister Cookie, and Everybody Loves Raymond, as Robert's Italian girlfriend Stefania, and then hit a dry spell. "Once I was an old broad of 35, they'd only consider me to play the judge, and I was lucky to get that," says Meneses, who recently turned 50. "The fact that Eva created such a deliciously juicy role for a woman my age isn't just a dream come true. It's a miracle."
But no one got a free pass. Longoria insisted on personally auditioning with every actor who screen-tested—and not just to size up their talent. "I looked for the cream of the crop, make no mistake about that," she says. "But I also had a 'no a–hole' policy. At this point in my life and career, I only want to be surrounded by nice human beings."
https://www.youtube.com/watch?v=7D6LcbbGOvw
Telenovela, Series premiere, Monday, Jan. 4, 8:30/7:30c, NBC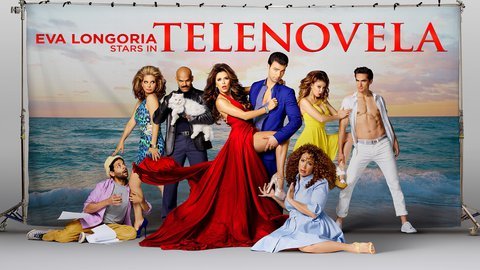 Powered by