Seven Sitcom Reunions, One Night: How 'Must See TV: A Tribute to James Burrows' Happened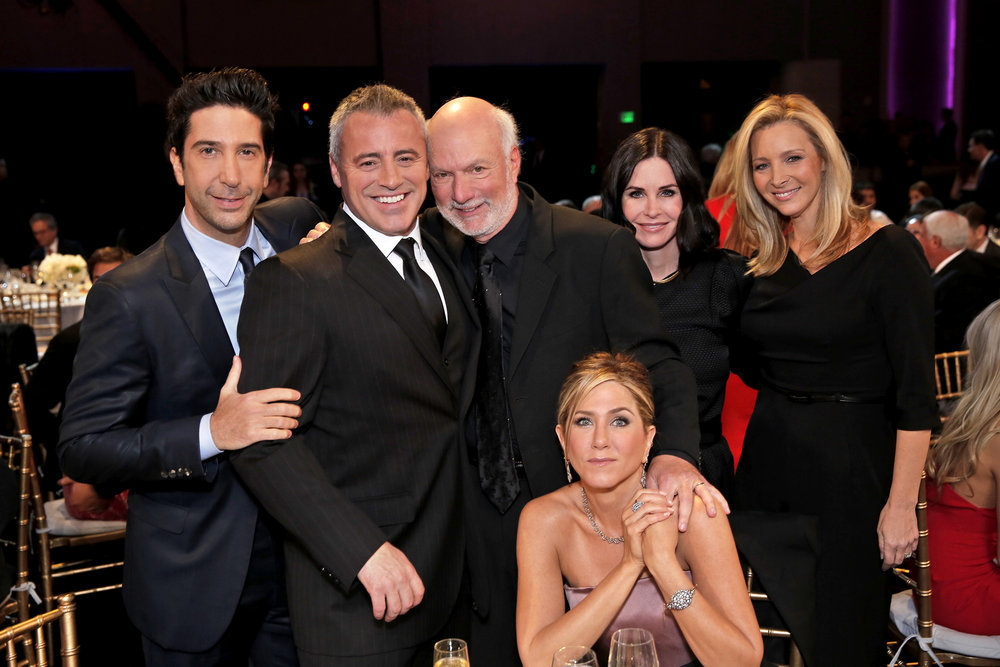 A few days before taping NBC's Must See TV: A Tribute to James Burrows, the producers behind the tribute special were feeling pretty confident.
Not only was the 2-hour event set to pay homage to legendary sitcom director Burrows, but the show had managed to pull off an impressive feat: Reuniting cast members from Friends, Cheers, Taxi, Frasier and other classic TV comedies.
PHOTO: See the Taxi Cast Reunite for James Burrows
"It was all coming together without a hitch," says executive producer Todd Milliner of the event, which was held last month but airs Sunday, February 21, at 9/8c. "And then the world's largest snowstorm hit the East Coast."
Weather threatened to derail some of the special's most-anticipated reunions–and yet, most stars were determined to make it, ultimately finding a way.
"David Schwimmer wanted to be there so badly that he jumped on a plane Friday night at 11:30 with an hour's notice to beat that snowstorm and get out of New York," Milliner remembers.
What eventually transpired at the Hollywood Palladium was a once-in-a-lifetime gathering of some of the biggest sitcom stars of the 1970s, 1980s, 1990s and 2000s. "It's really hard to get casts to reunite, and there are always reasons why it doesn't happen," says John Irwin, who produced the special with Milliner and Sean Hayes. "I don't know if you'll ever see another show like this."
Hayes says Burrows is one of the few figures in television who could even attract so many casts in one room–because he worked with all of them.
"They wanted to support and honor the man who was responsible for so many of our careers," Hayes says. "He's a father figure and a mentor and a friend to so many people. He's incredibly intelligent and well-versed and educated on so many different aspects in the world."
Hayes' Will & Grace co-stars also reunited on stage (except Debra Messing, who had a conflict), while current series The Big Bang Theory and Mike & Molly, both of which earned a series order after Burrows directed their pilot, were on hand as well.
RELATED: Why James Burrows Got Emotional Taping the Tribute
"The toughest part of it was agreeing on the seven shows that we could fit in the two hours," Milliner says. "There's so much stuff and we couldn't fit all the casts in there. You could do a special honoring Jimmy Burrows five times and still not run out of casts to honor. The thing is, everyone said yes."
Milliner and Hayes first came up with the idea of a tribute after Burrows crunched the numbers and realized he would direct his 1,000th episode on NBC's upcoming sitcom Crowded. Milliner and Hayes, who executive produce Crowded, were inspired by last year's Saturday Night Live 40th Anniversary Special and pitched NBC on a similar special surrounding Burrows.
"We were thinking, what's another way to gather that level of comedy talent in the room and celebrate decades of everything that we've all appreciated," Milliner says. "Jimmy was the common thread, so we thought, why not honor the guy that we're working with and let America get to know Jimmy and the breadth of his catalog."
NBC hooked Hayes and Milliner up with Irwin, whose credits include a variety of comedy specials. "The goal was, it's got to be funny," Irwin says. "We set out to book the reunions. It was definitely an exciting challenge to say the least. Coordinating the casts for seven of the biggest comedies in the country ever was quite a feat."
To interview the casts, Watch What Happens Live's Andy Cohen and Hollywood Game Night's Jane Lynch were tapped to participate. To keep the evening loose, Irwin had attendees sit at round tables–with plenty of free-flowing wine (an idea inspired by the Golden Globe Awards).
From there, the producers also produced several pre-taped packages, and spent a good amount of time working in clips from the shows. "Even if you've never seen Taxi in your life, you watch some of these clips and they're still as funny as anything on TV now," Irwin says.
Ultimately, even stars who couldn't make it, like Messing, Frasier's Kelsey Grammer and Friends' Matthew Perry, shot video tributes for Burrows. "I can't stress enough, he's just such a loved man," Irwin says.
Milliner and Hayes, who produce scripted series like Grimm and Hot in Cleveland, (as well as the unscripted Hollywood Game Night) admit that producing an event like Must See TV was harder than they thought. "Every piece you want to get off perfectly," Milliner says.
But as the night wore on at the Palladium, Milliner adds, "we were smiling a lot back stage. To watch the cast of Friends stand behind the cast of Big Bang Theory for a picture, or the cast of Will & Grace go over and talk to the cast of Taxi, wow."