Nickelodeon's 'School of Rock' Mixes Music With Shakespeare (VIDEO)
The Legend of the Rent lives on… in Nickelodeon's newest series, School of Rock.
Similar to the movie (which also inspired a Broadway musical), the series centers on musician-masquerading-as-substitute-teacher Dewey Finn (played by comedian Tony Cavalero) and how he gets his class of overachieving, rule-abiding prep school students to form a secret rock 'n' roll band and learn to love…Shakespeare?!
PHOTOS: 6 TV Actors Who Got Their Big Breaks on Broadway
The "school" part of the show will follow a set of middle schoolers as they navigate relationships and discover more about themselves. Some of the kids under Dewey's music-inspired tutelage include lead guitarist Zack (Lance Lim, Growing Up Fisher), bassist Tomika (Haunted Hathaways' Breanna Yde), drummer Freddy (newcomer Ricardo Hurtado), keyboardist Lawrence (Aidan Miner, The Secret Life of the American Teenager) and band manager Summer (Henry Danger's Jade Pettyjohn).
As for the "rock" part, episodes will feature musical performances of the student band covering a mix of modern and classic hits, like WALK THE MOON's "Shut Up and Dance," The Who's "The Kids Are All Right," Twisted Sister's "We're Not Gonna Take It" and Demi Lovato's "Heart Attack."
Watch an exclusive clip of the School of Rock premiere below and then tune into the episode on Saturday, March 12 at 9:30/8:30c on Nickelodeon.
[jwplatform vFxIZFJJ]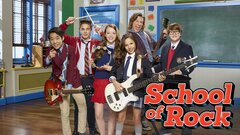 Powered by