'Outlander': Brianna and Roger's Impasse & Stephen Bonnet's Act of Violence in 'Wilmington' (RECAP)
Wilmington
Season 4 • Episode 8
[Warning: The below contains MAJOR spoilers for Season 4 Episode 8 of Outlander, "Wilmington."]
Season 4 of Outlander is well underway and yet it seems like things are just getting started in this week's installment, "Wilmington."
We last left Brianna (Sophie Skelton) and Roger (Richard Rankin) as they set sail for the new world in the 18th century. This week, fans were shown what happened when they landed in America, where their paths are headed and the brutal place America was in its early days. Below we're breaking down every big moment from the pivotal episode, which featured a "wedding," emergency surgery, and an unfortunate "agreement."
Kicking things off in 1769 Wilmington, Roger continues to search for Bree after she ventured into the past without telling him. In the middle of his search, he ends up crossing paths with the printer of Jamie (Sam Heughan) and Claire's (Caitriona Balfe) future obituary — the reason for Bree's journey — but the date on the obituary is smudged. When the printer notices Roger's frustration and asks what's wrong, he asks the man if he's seen Bree, showing him the portrait they'd had done at the Scottish festival earlier this season.
Just as Roger's about to depart the printing shop , he comes face-to-face with Fergus (César Domboy), unaware of his connection to Jamie and Claire. Later we see Roger sitting at a tavern table drinking a pint and clearly losing hope. That is, until he hears Bree's voice a room over — she's looking to travel through Cross Creek to find her parents. Jumping up, Roger greets a shocked Brianna and at first their reunion is happy. However, they quickly have some issues to address with each other.
Brianna angrily tells Roger that his journey to the past wasn't part of the plan, while Roger has his own grievances for her leaving without warning. Bree explains she didn't know what to do or where they stood after they last spoke. "I didn't know how to tell you I loved you," she admits. All the while, Bree's "servant" Lizzie (Caitlin O'Ryan) notes the rough tone Roger takes with Bree, and it's clear she's concerned about her friend.
Upon hearing Brianna loves him, Roger pulls her away to kiss in a quiet Wilmington alley. When it's clear things are heading in a certain direction, Bree stops Roger and asks if he feels differently about their relationship, and if marriage is still on the table with him — something she wants to know prior to sleeping together. Roger confirms a wedding is what he wants and they proceed.
So the couple sets out a blanket and lights a fire for their hand-fasting ceremony — a version of marriage customary to the time. It's there that they exchange promises and vow to love each other forever. Upon pronouncing each other man and wife, their first kiss as "spouses" turns passionate and they consummate the relationship. After that, viewers are offered a little bit of pillow-talk in which Bree remarks that she's never been so happy.
Brianna then talks about her parents' obituary saying she knows that there's time to save Jamie and Claire, but since the date on the paper was smudged, she doesn't know for sure. When Roger agrees with her theory, Bree asks him how he'd know about the smudge because she discovered the obituary herself. This move gets Roger caught for not telling Bree about her parents' demise, and they disagree about what the right move would have been.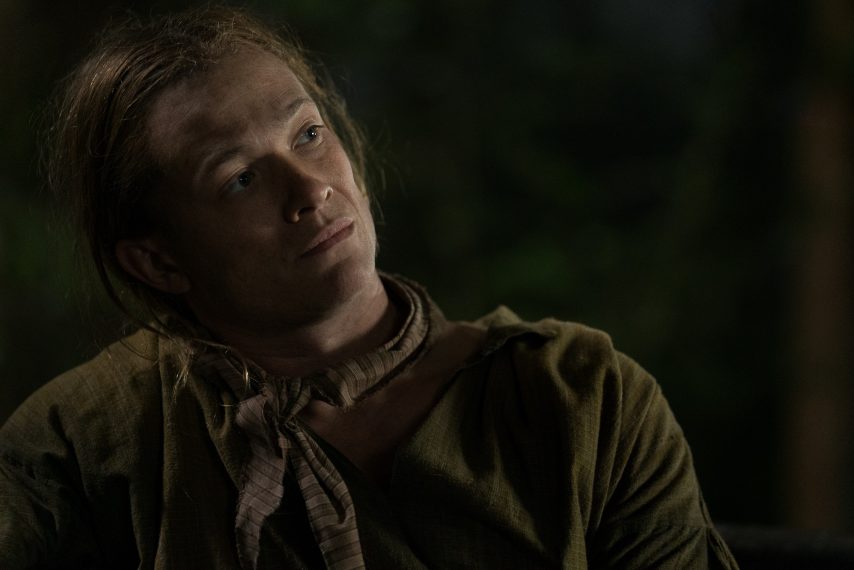 Had Roger told her, Bree could have decided for herself if it was worth protecting her parents, but instead, he made the choice for her. Ultimately, their wedded bliss dissolves into a screaming match which concludes with Roger suggesting he return to the future and Bree not stopping him. Her sorrow over the exchange then leads Bree down a dangerous path when she enters a tavern and is grabbed by none other than Stephen Bonnet (Ed Speleers).
Initially, he asks her to blow on a ring for luck in his poker game, but Bree recognizes it to be her mother's wedding ring — the one viewers saw him take from Claire in the premiere. She notes this and asks if her mother is alive, which spurs the pirate to reveal that Claire was alive when he last saw her but that it had been a while ago. When Bree asks to buy the ring back, he suggests they make an "agreement" before heading off to a side room. When it's clear Bonnet doesn't want money, Bree tries to escape but is overpowered. Stephen Bonnet rapes her while others ignore her screams from the room. When he finishes, Bree is bloodied and bruised. He stops her before leaving, holding out the ring and saying he's an honest man for a pirate.
As for the rest of the Outlander crew, Jamie and Claire's storyline begins in Wilmington, as well, as they visit Marsali (Lauren Lyle) and Fergus. There, they take a minute to visit with Fergus and Marsali's new baby boy and discuss their plans. Jamie and Claire are set to attend a play with Governor Tryon (Tim Downie) and his wife Margaret (Melanie Gray), and they want the Frasers to meet a man named Mr. Edmund Fanning (Samuel Collings). While Fergus and Jamie stay with the baby, Claire accompanies Marsali to the kitchen to prep food, where she opens up about being a mother, saying how she couldn't live if something were to happen to her child. Claire notes that you can't always protect your child which coincides tragically with Brianna's rape.
Later on, Claire and Jamie meet Tryon at the theater and the governor introduces them to his close associate Mr. Fanning. The man is holding his side in pain and Claire asks about it, offering to examine it further. When he explains he has a protrusion that causes pain in his abdomen, Claire advises he see a surgeon.
Jamie and Tryon break away from the group and Margaret Tryon shows Claire around the room, pointing out George (Simon Harrison) and Martha Washington (Elizabeth Appleby), and Claire asks to be introduced. Jamie joins the conversation, in which the men are comparing battles. Washington notes he hasn't heard of Culloden, as he grew up in Virginia, and Claire slips up by mentioning that he cut down cherry trees. Claire then explains to Jamie that Washington will go on to become possibly the most famous American to live.
As they take their seats Tryon mentions to Jamie that the insurgents, or what Jamie calls "regulators," plan to rob one of the government's coaches and he has a spy among them. This news concerns Jamie further when Tryon notes the leader of the group is Murtagh (Duncan Lacroix) and that he plans to have the troop attacked in a sting operation with the coach. During the play you can see Jamie's wheels turning as he concocts a plan. In a misstep, he knocks into Mr. Fanning who is suddenly experiencing unbearable pain from his obvious hernia, and so Claire jumps into action. Jamie then clues her in and asks for her to buy him some time.
When Jamie makes his way for the exit, he runs into the Washingtons who offer him a ride and he says he must collect Claire's surgical tools. This allows him to get to town and make a plan to warn Murtagh of the sting, while Claire is instructing theatergoers to gather the necessary tools and dressings for her to perform surgery on Mr. Fanning. Governor Tryon insists that Claire withhold her treatment for a more private space or Mr. Fanning's own doctor, but she insists it's the only way to save him.
The crowd is somewhat doubtful of Claire's methods, but they help her out. And when Mr. Fanning's doctor shows up, Tryon sends him away, saying Claire can handle it. It's a truly inspirational moment. Then, Jamie returns, telling Claire that he hopes he saved Murtagh.
We then see Murtagh and the regulators in the woods as a wagon approaches, filled with armed redcoats. Just as Murtagh and the others are about to enter the road, Fergus shows up, much to everyone's surprise. Thankfully he made it in time to warn the men against any attack, telling Murtagh that there's a spy among his men reporting back to Tryon. Even in the midst of a serious situation, it's clear Murtagh is happy to see Fergus for the first time in years.
Next, we see Jamie taking a ride with Tryon and another man as they discuss their foiled plan and the apparent traitor in their midst. Thankfully, the other man suspects George and Martha Washington, as they left the party early, but in reality Tryon's traitor sits in the car with him.
A lot went down in "Wilmington," and we have a few key things to keep in mind moving forward.
Bree's ordeal with Stephen Bonnet further proves his dangerous nature. Will she be able to heal? It seems she'll be catching up with her parents soon enough, so perhaps Jamie's past experiences with a similar ordeal will help her in her recovery.
Is Roger really gone? He left in anger, but will he really abandon his new wife? Hopefully some answers are ahead.
Could Murtagh be in danger? Clearly he's a revolutionary, but will his ties to the regulators prove fatal? His character in the books died during Culloden, so we're in uncharted territory when it comes to this character's future.
Will George and Martha Washington become friends with Jamie and Claire? They seemed to get along well, and their role in the early days of America certainly meshes well with Claire's modern values and Jamie's progressive views.
Outlander, Sundays, 8/7c, Starz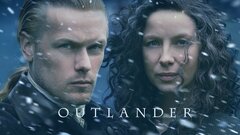 Powered by