'Outlander's David Berry on Lord John's Motives, Raising Jamie's Son & a Spinoff Series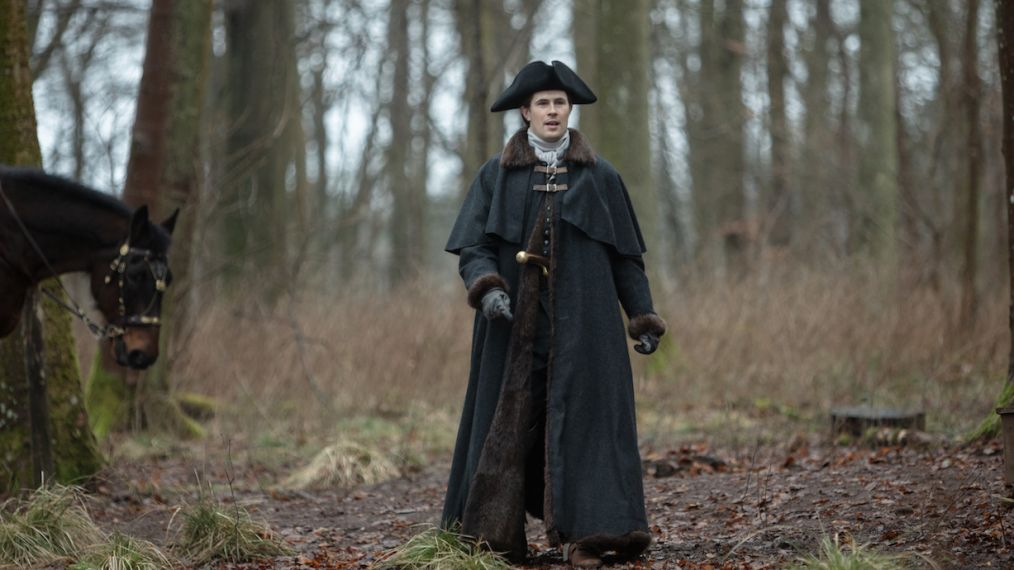 In Outlander's most recent episode, "Blood of My Blood," another fan-favorite character returned to the series: Lord John Grey (David Berry).
John was first introduced into the Outlander world in Season 2 as a young British soldier captured by Jamie and fellow highlanders. In Season 3, they crossed paths again at Ardsmuir where Lord John was the governor and Jamie a prisoner. It was then that Lord John's feelings grew into love. And last fans saw him, he was serving governor of Jamaica and helping Jamie and Claire locate Young Ian.
Fast forward to Helwater, where Jamie is paroled as a groom. There, Jamie secretly fathers a son named William and after Willie's mother dies, his aunt Isobel becomes his guardian. Lord John agrees to marry Isobel and raise Willie, leaving Jamie eternally grateful — so much so, Jamie offered himself to Lord John because he knows how John feels about him. John declines.
Now, the Frasers are in the colonies when Lord John decides to visit with Willie on their way to Virginia. Jamie gets to see his son but Claire is weary of Lord John's true intentions and is aware of his emotions towards her husband.
Berry spoke to TV Insider about the episode, John's true motives, and why he think the Lord is a compassionate character.
See Also
Plus, learn how designers helped bring Jamie and Claire to America.
Last time we saw Lord John, he was in Jamaica… What have you filled in about your character's life?
David Berry: It's alluded to in the script, so I didn't have to fill in much. Lord John, he's in Jamaica with Isobel and on the voyage back she dies and tragically Lord John becomes the single father of William. I think he's going through a lot of bereavement and conflicted feelings of guilt about the life that he had with Isobel and the feelings he was harboring for Jamie. He truly did care for Isobel though.
Now, he's arrived in the colonies because Isobel's family has a plantation in Virginia. I think it's fair to say that he still feels strongly about Jamie and he takes the opportunity to get near him or in his orbit. It also makes sense for Willie to be closer to his [biological] father now that Isobel is dead.
Lord John has a few disagreements with Murtagh over dinner. They do have some bumpy history. Will we see that play out?
John isn't going to get himself anymore involved [in politics] than he already has. That's not typically his M.O. As much as he can avoid the events of history, he going to do that as much as he can. But his loyalty is ultimately to the Crown.
I think the more compelling question is what side would Jamie fight for. In that [dinner] scene, I think what's interesting is that Lord John and Murtagh are Jamie's closest friends and are vying for [Jamie's] position. Jamie seems to have divided loyalties now.
You also have some intense scenes with the now Golden Globe-nominated Caitriona Balfe. how was that?
I feel even more privileged and honored to share the screen with her! It's a real highlight for me to do the scenes with Caitriona.
Lord John and Claire are playing a game of chess, they're both feeling each other out. They're slowly revealing little bits of themselves to try and get the upper-hand on the other person. As John discovers, Claire is more than a match. She can see right through his mask. He can't play any games with her. She pretty much flat out says to him, 'You're here to see Jamie.' It's very confronting for him and he doesn't know exactly conduct himself.
Do you think Lord John told Claire about Jamie's offer to hurt her? Did he use almost dying as an excuse?
No, I really don't think so. Sure, he's jealous of Claire but I don't think he would ever intend to purposefully hurt her. I think he's in a heightened emotional state — he's close to death. It just comes out. Then, he apologizes right away in the next scene.
See Also
Let's just say, this is a moment many fans have been waiting for...
Do you think Lord John is a good father?
I think he is. He wants nothing but the best for Willie. The only thing I questioned was when he left Willie by the creek [in the first moments of the episode] and then Willie gets some leeches on him. Me, as a parent, was like, 'Oh no, you can never leave your son by the creek by himself!' So, I had a chat with the writers about adding a line about leaving Willie at the stream because I'm sure Lord John is the type of father who would never abandon his own child.
On a more serious note, I don't think Lord John's intentions to come to the cabin were all selfish. I very much believe he came to Fraser's Ridge so that Jamie could see Willie and have a relationship with his son. Lord John is willing to share his son. He's compassionate and would never reveal to Willie that Jamie his real father. That would be devastating.
There's online chatter about a Lord John spinoff series. Would you be into that?
I think he's a very compelling character. I think it's wonderful that the fans have that reaction and I think that's a credit to Diana's writing.
Outlander, Sundays, 8/7c, Starz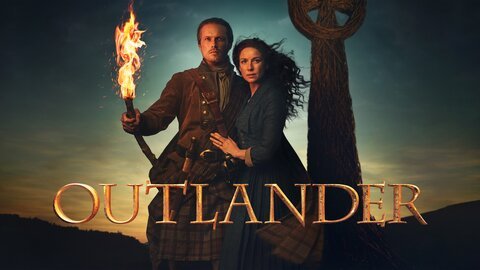 Powered by